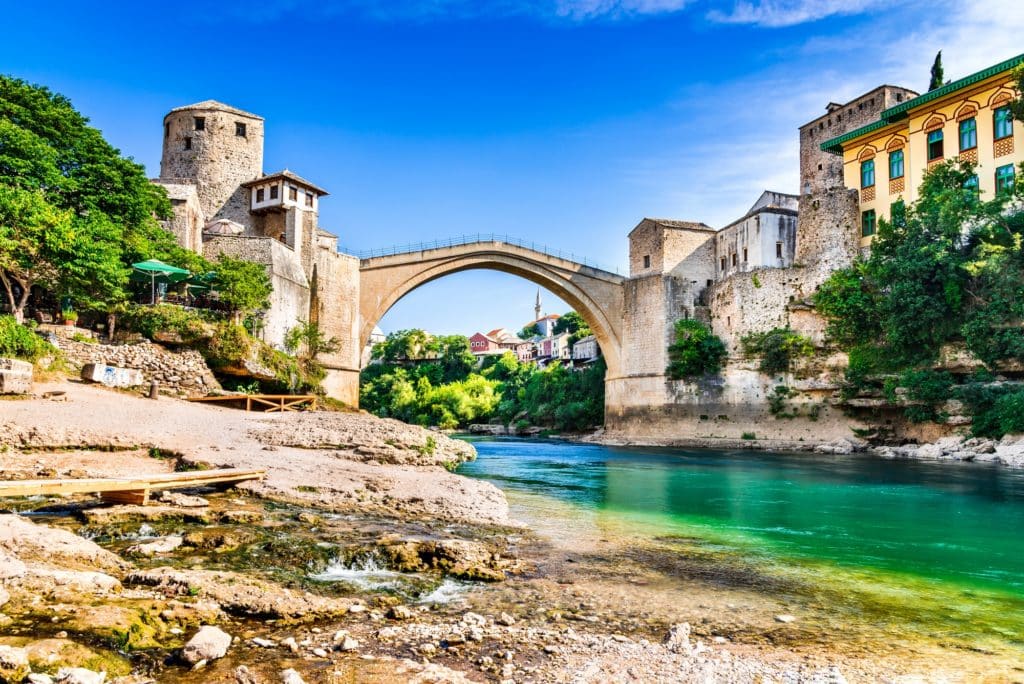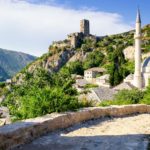 A Mostar Excursion is Recommended on a Croatia Holiday
by Saron Lease, Croatia Gems Company Founder & Director, 10th May 2018,

If you're going on holiday to Croatia, we'd recommend that a Mostar excursion should be high on your list for a day trip – or even for a longer stay if you have time – the famous old bridge is a 'must-see' but there is so much else to soak in and discover about this area and town…
Mostar Excursion – Where is Mostar?
Mostar is in "Bosnia & Herzegovina", which was a region of Yugoslavia before it was split up. It is on the River Neretva, about 1 hours drive inland from the coast of Croatia, and about 2 hours drive from Split or Dubrovnik. A Mostar excursion to the Old Town & the famous Old Bridge (or Stari Most) is one of the most famous daytrips for those on holiday in Croatia and it is certainly worth doing. But that's not the only thing to tempt you to this town and region. And you can also stay longer than a day trip – the region is beautiful and has much to see and do. The weather is also glorious for a most of the year.
 How to get to Mostar?
To go on a Mostar excursion, you can fly into either and drive up, or actually flights have just started direct to Mostar from Zagreb, the capital of Croatia.
 What's it like?
Mostar is one of the most popular day trip for tourists visiting Dubrovnik and Split and it's a beautiful town. If you are just doing a quick visit to the Mostar area, it's worth being a bit of a tourist; Mostar is famous for being the place where East meets West and the history, culture, food and architecture are pretty diverse. For example, the Mediterranean coast is an hour away and, Croatia was part of the Venetian Empire for centuries. Then, inland was ruled by the Turkish Empire, and snowy Sarajevo is also a couple of hours on from Mostar, in the other direction.  Mostar therefore has a mixture of influences from both and so it's a unique and interesting place if you look below the surface.
Mostar Town & The Old Bridge
Of course the main thing that people come to Mostar to see is the old bridge – it is world famous and a UNESCO World Heritage Site. In the summer there is a bridge diving competition. It is very dangerous to try it without proper training and it is in excess of a 30 metre dive. There is much jubilation and a great atmosphere at the summer bridge diving on the terraces below so one to go to if you're in town! There are lots of cafes and winding streets to wander around and although it's been rebuilt now, the old bridge will be well known to some who saw it demolished in the troubles of the 1990's. The architecture hails back to the days of the Turkish Empire and it's an interesting contrast to the newer part of town on the other side of the river which is more a reflection of the recent Yugoslavian communist era. It is worth exploring both sides though to get a feel for the culture of the city. There are a good selection of shops, and great places to eat or grab a pizza slice and gorgeous coffee – you are never more than 10 metres from somewhere to have coffee!
 Food & Drink in the Mostar Area
This is a beautiful area surrounded by mountains with a rich history of agriculture and produces lots of fruit, wine, liqueurs, grappa (locally called rakija), olive oil and organic smoked meats. It is all delicious!  Make sure you try all the local specialities here! Bizarrely, it also used to have a tobacco producing industry to rival Cuba! Many families in the area produce a fair few of these delicacies themselves too  – they have their own small vineyards, olive groves, fruit trees and prosciutto curing rooms, and make their own wine and grappa.
You will find it very seasonal here food-wise though – everyone is very much in touch with nature and you won't find big supermarkets with produce available all year round . At first it's a surprise but it's actually really nice to go with the seasonal flow and have plentiful organic fruit like figs, apricots and cherries from the trees when they are ripe, and more pickled vegetables in the winter when there are not so many of those around.
There's a lot of Mediterranean food on offer (fish, pasta, pizzas sold by the slice, lamb on the spit and slow cooked on an open fire) but also make sure you try Cevapcici (a style of sausages) very popular all over southern Dalmatia but the best ones are from here, traditional breads, pita (pie – but not like any kind of pie you may know already!) (burek = meat pie) and yoghurt, Turkish coffee is widely served along with multiple varieties of really (really) sweet cakes (like Baklava)…
We can't mention Mostar without mentioning lamb on the spit. It's a favourite in these parts, like the Sunday Roast is in England and you will see signs for it as you travel about. In fact in these parts this is the Christmas dinner of choice!
Pocitelj Ottoman Village, near Mostar
Pocitelj Village is a small Ottoman hillside village not far from Mostar in the Dubrovnik direction (maybe 15 minutes drive from Mostar Town) – it is on the banks of the banks of the Neretva River, on the main road between Mostar and Dubrovnik. Sitting high on the hill overlooking the town is the impressive fortress, Sahat-kula, which guarded the town in Medieval times. The village is a very fine example of ancient Ottoman architecture – there are pretty little stone houses, a mosque, a fortress, the town walls and a clock tower. The surrounding scenery is lovely and you can also stop on the way to admire the river which is gorgeous at any time of the year but exciting to see in the Autumn when the water is high!
Biscevica House (The Turkish house), Mostar Town
Also known as 'The Turkish House', this was constructed during the time of the Turkish Empire and for a small admission fee you can see how life was in those times. It is best to visit early on as it does get busier later when the tours come.
Karadozbegova Mosque, Mostar
Built in 1557, the Karadozbegova Mosque is easy to see from the Old Bridge and is considered the finest example of Islamic architecture in the region. It doesn't cost much to enter and have a look round and even climb to the top…
Other things to see on a Mostar Excursion…
Medjugorje Pilgrim Site, near Mostar
Medjugorje is the scene of an apparent visitation by the Virgin Mary to a group of youngsters on a hill near the town. The visitation happened on 24th June, 198, and apparently still occur. The claims have not been officially ratified by the Vatican but the town is visited by thousands of pilgrims and tourists each year with special tours and excursions to cater for the demand making the pilgrimage every year. There are many excursions available from Split to Medjugorie and Dubrovnik  if you'd like to make a visit on your holiday to Croatia.
The Hammam Turkish Baths, Mostar Town
This is Mostar's very own Hammam (Turkish Bath). It has survived from the Ottoman era and was built to be a public bath so it isn't hugely decorative. There is a museum of arts and crafts and it has been recently restored.
Blagaj – River Beauty & Monastery, near Mostar
Blagaj is a wonderful spot and highly recommended, and although it's a bit touristy it's in a good way! It is fantastically beautiful place to spend the afternoon –  situated at the spring of the Buna River and a Dervish monastery its history is Mediterranean and Ottoman goes back to around 1520. There is also an Old Blagaj Fort (Stjepan grad), on the hill above Blagaj. According to Wikipedia, it was the seat of Herzegovinian nobleman, Stjepan Vukčić, and the birthplace of Bosnian queen Katarina Kosača-Kotromanić. Aside from the history and the scenery, on of the main reasons to visit are the stunningly located fish restaurants dotted around the banks of the river – fresh river fish and other local dishes next to the river – fabulous. If you come in the summer it's also worth knowing that it's cooler by the river so it's a welcome break for a few hours from the heat of the day.
Rujiste Alpine Village & Restaurant, Mostar
If you are in Mostar for longer than a day, take a tip to Rujiste – just north of Mostar of the E73 is a mountain road that takes you, in 15 minutes to a sweet little alpine ski station! You can drive easily there in winter or summer and it's just as nice in either season. There are just a few houses there but the views and scenery are gorgeous. It's a very surprising find! The Hotel Snjeza Kuca is the place to head for – a huge, crackling open fire in the middle of the restaurant warms the cockles and traditional food is served. Whether you can read the menu or not is another question however as it is not in English! The start of an adventure maybe? If you like it as much as we did, you can stay very reasonably over night – it's popular though as it is very cosy, so book in advance…
More Information