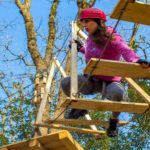 Visit Adrenaline Park – Medulin, situated in the middle of a dense oak forest
ADRENALIN PARK MEDULIN – ISTRIA
Adventures like the ones you're going to experience in this park are promised to be exhausting – Recreational and adrenaline park is family friendly – You will not only have a blast of a time but also work on battling your own fears, getting stronger, pushing your limits beyond of what you think your capacities are! A sense of extraordinary adventure is guaranteed!
Altitude polygon and zip line
The special altitude polygon consists of 35 different elements ending with an exciting 160m long zip line experience. Before sliding down the zip line, you'll have to make an exciting walk on platforms built within the trees and connected by bridges of different sizes and crossing difficulties. Rope walking, plank crossing, hanging ropes, rock climbing and giant swings are only a foretaste of what you will experience!
Bubble Soccer
This game is a cross between soccer and zorbing, a sport where an individual rolls down the side of a hill or sometimes a level surface in a giant plastic orb. The plastic orb surrounding the player in bubble soccer is similar in construction but differs where these allow the player's legs to run around freely or essentially wear the orb.
The objective of bubble soccer is to score against your opponent's net and knock each other down while trying. You could argue that this is one of those games where defense is more fun.
Giant swing
Test your limits on giant swing that will make you take your breath away. Are you ready for a free fall from 12m?
Paintball and splat master (for children between 5 and 12 years of age)
Be ready to deploy your sense for tactics and strategy on this 1800m2 large paintball field! Make sure you aim well and trick your opponents whenever you can!
Buggies (for children between 5 and 15 years of age)
Rent a buggy and enjoy a ride on our 500m long racecourse!
Family
This park is a great place to spend time with your family! Enjoy some fresh air in the heart of an ancient oak forest and let your spirit of adventure guide you through challenges and build your confidence and develop your motor skills whilst you do.
What would an adrenaline park be without a zip line? Two are provided – a 30m long one for children and a 160m long one for adults. The zip line is the last challenge of the polygons!
Should hunger and thirst make you weaker, hop over to the bar where you can grab a refreshing drink, relax and even prepare a tasty healthy meal in one of the BBQ areas!
Groups Team Building
Team building is nowadays a crucial factor in a company's life for a good relationship between colleagues and a feeling of trust ensure a successful performance.
Birthdays
Let your little adventurer celebrate his/her birthday with us! (meant for children above the age of 6). The park will take care of the BBQ.