Our 'Brac Luxury Villas' section is all about villas we feel have something a bit special about them. We haven't grouped them by a star rating or if they have antique furniture, we have chosen the villas that we feel have a special locations, fabulous pools or views, wonderful gardens, a special level of service, high spec features or beautiful interiors. Some have only one attribute, some have more, but these are villas which we would recommend as above average and of a very nice standard.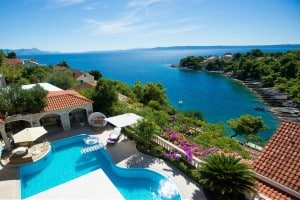 Sleeps 10 + 2 | 5 Double Bedrooms | 5 Bathrooms | Pool | Beach below villa
"Our time at the villa was INCREDIBLE – we cannot say enough positive things about it – location, views, property – perfect – we were treated like VIP's"
VILLA GODI STAR – TURQUOISE – SUMARTIN BAY, BRAC ISLAND
Villa Godi Star is situated in a gorgeous & peaceful spot, just 30 metres from the sea, on the edge of pretty Sumartin Bay.
Find out more
---