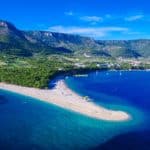 Croatia beaches – 98% of sea water locations rated as having 'excellent' bathing water quality
By Croatia Gems, 11th April 2023
As the UK continues to allow raw sewage to be released into its waterways and the sea, Croatia is the exemplar in keeping its beaches pristine, and safe for bathing. So it's good news for Croatia holidays – it's official*, the sea water lapping onto Croatia beaches is overwhelmingly rated 'excellent' in water quality, as determined on the basis of criteria defined by 'Regulation on Sea bathing water quality (OG 73/08)' and the 'EU Directive on management of bathing water quality No 2006/7/EC'.
Testing undertaken in 1,011 Croatian locations up and down the coast in June 2022, demonstrated that an amazing 995 (89.42%) were rated 'excellent', 11 (1.09%) were rated 'good', 3 locations (0.30%) were 'sufficient', and only 2 (0.20%) were rated as 'poor'.
As Croatia Week reminds us, Croatia has been testing swimming water quality since 1989 and has continually been in the top three countries in Europe for water quality, along with Cyprus and Malta.
This is a magnificent result for Croatia beaches, giving a quality assurance we all look for in choosing a holiday destination. Croatia really scores well in other aspects too: delicious organic produce and world-renowned locally made wines, a wonderful Mediterranean climate, one of the safest countries in the world, with a very low crime rate, and a people very friendly to visitors and genuinely pleased that their country is appreciated by visitors from around the world.
* Data released by Croatia's Ministry of Environment and Energy, Department of Marine and Coastal Protection.
Photo © Croatia Gems
More Information