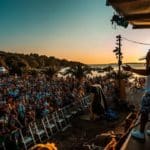 Croatia Rocks
Croatia has a well-renowned nightlife, and the summers offer some of the best parties in Europe with music playing all night long until the morning after. There are also lots of bars where you can just chill out and drink some delicious wine with friends. The liveliest clubs are around Split & the island of Hvar , Dubrovnik is catching up with a great music scene and head to Zagreb which is hot all year round but steaming from September to June with live artists and vibrant disco's.
The Croatian Festivals are really taking off now – if you'r fed up of our amazing but somewhat wet & muddy offerings head for the sun. Their festivals tend to be a bit more specialised , however  there is plenty to please every taste and with the beach and the sun what's not to like – most tickets released in the previous summer  make sure you book accommodation well before October of the previous year – don't expect villa's in these areas mostly houses or apartments – limited pools why would you want one ? The water out there is non- tidal and clear as a bell – keep it simple somewhere that's clean and has working air con makes more sense when you just want somewhere to charge your batteries.
Just some of this year's festivals – dates tend to be around the same each year check individual sites.
For ticket release dates – some have early bird offers which are half the price and nowhere near as expensive as Glasto etc.
This is where it's at in 2018 so many festivals kicking off in June with InMusic Festival in Zagreb – 25th – 27th June Queens of the Stone age, Alice in Chains, The Kills just some of the groups featured this year.
Or bad clash of dates ! – Hideout Festival on Pag – Zrca beach  25th – 29th June – Electronic fest with 100's of top DJ's , beach parties, boat parties.
27th June July 4th  Love International 2018 more Electronics on the beach at Tisno.
Then down to Split for ULTRA Europe 2018 with David Guetta et all 6th – 8th July.
Back to Pag for some Hip Hop at Fresh Island Festival 3 days of Hip-hop and R&B 10th – 12th July and then take a little break before the madness that is SUNCBEAT 18th – 25th July at Tisno.
(Voted Best Disco & House Festival in Croatia 2016)
Followed by Sound wave 26th – 30th July ( Tisno ) – Electronics/Beach Parties / street artists/ legendary after hour ragers  and more.
Loads more through August culminating with one of our old favourites – Outlook ( Pula )  5th – 9th September – set in a very atmospheric abandoned fort and known for its Bass Heavy line ups  alongside Beach parties and Crazy Boat Parties.
 Enjoy!
Photo © Pula by Renco Kosinozic via Croatian National Tourist Board
 More Information