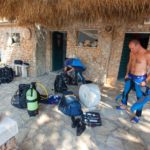 Croatia Villa Holiday – Croatia Best in Europe for Water Sports
By Croatia Gems 26th March 2022
If your perfect Croatia villa rental depends on having water sports readily on hand, then you are in luck! The Dubrovnik Times reported on analysis and findings by Gymcatch, that Croatia is the best place in Europe for water-sports enthusiasts. Gymcatch also found that Croatia is the 11th best destination in the world for an active holiday!
There are water sports' opportunities all along Croatia's long coast, where you can kayak, water ski, jet ski etc, but here are a few locations where tidal or wind conditions make them particularly special for wind-driven water sports, like Viganj on the Peljesac Peninsula, Bol on Brac island, the Kamenjak Peninsula in Istria and the island of Krk in Kvarner Bay.
Peljesac Peninsula
Focussing on the Peljesac Peninsula, this area is a great holiday location and holidaymakers booking Peljesac villas to rent will enjoy marvellous scenery, and access to its famous wine region. It's a short hop to Korcula island from Orebic at the top of the peninsula, which is a plus, has it also has lovely beaches and good value food and wine. The Peninsula is often overlooked in favour of the Dubrovnik Riviera, but Dubrovnik is hardly a haven for wind surfing and kite surfing, so the perfect holiday would be a week on Peljesac combined with a week in a Dubrovnik villa to rent.
Orebic, Viganj & Korcula island
The area around Orebic and particularly Viganj, is superb for water sports because of the reliable thermal winds that blow on the island from May to October. Its location on the narrow channel separating the mainland from Korcula island focuses the Maestral wind to give the superb conditions, which in the mornings in Viganj are characterized by milder winds that suit beginners, while advanced surfers prefer to wait until afternoon.
There's a lot of activities available to make the most of these windy conditions including kite surfing, windsurfing, water skiing, wakeboarding, and of course the inevitable crowd-pleaser, the banana boats! The Orebic area also offers diving, jet ski, SUP and kayak hire as some of the best ways to see and experience crystal clear sea, beautiful small islands and amazing views. Boat hire also available.
If we have tempted you to consider a Peljesac villa holiday but you don't find what you are looking for on our main villa search page, do also have a look at our 'By Request only' portfolio.
Photo © Dive Centre Mokalo
More Information on Peljesac Peninsula, locations, beaches etc.