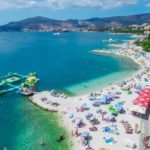 A Great Family Holiday has it all – Croatia Villas, Pool, Beach, Views
by Saron Lease 22nd April 2023
Croatia Villas – Pool, Beach, View are wonderful elements of a family summer holiday..
Croatia is a destination which is blessed with a stunning coastline of blissful beaches, sun kissed islands and incredible views. It's a clean, sparkling and authentic. And the little towns and seaside villages are just the right size without being too big or too small. In short, Croatia is perfect for family villa holidays. So for Croatia villas – pool, beach and views tick all the best boxes.
But what sort of villa, and where, is best to make the most of Croatia? It's hard not to fall in love with almost every location on the Croatian coast. For family villas you can't beat locations where everything is within an easy walk. Particularly good are those places where there are activities for youngsters and gentle, shaded beaches for little ones. But some locations are better to look at if you want a villa holiday. Especially so if you want a family villa holiday in Croatia.
Locations for Villa Holidays
Certain locations in Croatia are stunning but more suited to camping or couple's apartment holidays. Locations like Mljet Island with its national park and beaches at Saplunara. Or Peljesac is perfect for apartments and camping – Prapratno and Zuliana are beautiful little spots. Croatia villas pool however – not so much. But check out Loviste Bay with it's pretty, sheltered bay and villa Coral on the beach is a wonderful villa beach spot! It's quite far from the airport at around 2 hours drive from Dubrovnik Airport, and while the campsite at Mokolo is wonderful and right on the beach, there is also a fabulous hidden villa there too – Villa Coturi has the beach the other side of the garden gate.
Dubrovnik Family Villas
If you want a bit more comfort and sophistication in your Croatian family holiday, then it has to be a villa with private pool. Undoubtedly the most sought-after villa locations in Croatia for Croatia villas with pool are in Dubrovnik and there is more choice of villas here. Its spectacular old town is not called the Pearl of the Adriatic for nothing. The beautiful Dubrovnik Riviera glistens with sparling bays and boats up and down its hour-long coastline.
Places like Mlini, Cavtat, Zaton and Slano have villas with easy to walk to beaches and restaurants on the sea edge. Mlini and Cavtat are particularly good as they have a frequent boat line to the Old Town of Dubrovnik and plenty of activities in the bay. Everyone can have a bit of independence and things they like nearby!
Mlini Bay has an especially good offering of villas with pools too – some in the bay and some with a view a short walk from the bay – check out Villa Turquoise, Villa Nectara, Summer Villa, Villa Anamaria which are close to everything. Mlini Bay has lovely, shaded beaches, water sports and shallow incline beaches for little ones. There are also little play parks with coffee (or wine) bars next to them so you can easily relax while keeping an eye on the children! And, in Zaton have a look at Villa Zaton which has a great garden for children and is a short walk to the beach.
Brac Island Villas
Another great location for Croatia villas – pool included, is Brac Island which is super for pretty little bays and villages. Brac is an idyllic island escape and there are some super Brac Island villas. It hasn't been overdeveloped at all and is just wonderfully pretty and down to earth. Lovely Sumartin Bay is perfect for paddling with small children in coves or relaxing at the beach bar and watching slightly older children playing on the beach! Villa Godistar and Villa Tika are super extended family villas and have a pretty beach just underneath them. A short wander from the nearest restaurant it makes for a blissfully relaxing holiday.
Split Riviera Villas
For a slightly more upbeat Croatia villas pool holidays, Split is the place to go. Head for nearby Trogir Old Town which is around 20 minutes from Split Airport for the best villa locations. Ciovo Island which is connected by a little bridge to charming Trogir Old Town is a good bet. Okrug Gornji is perfect for older children who want more going on. And if you have teens, they can head off into Trogir easily.
Also check out Slatine Bay – perhaps Villa Slatine with its beach and beach bar/bistro just yards away. Or Palm Tree Villa which is on the beach itself.
More Information