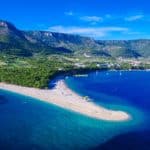 Croatian Beaches to add to your bucket list
According to The Mirror, 16th July, 2018,
Croatia is home to some seriously spectacular beaches – Holidays in Croatia have fast become a summer break staple as the European hotspot continues to enjoy a surge of tourism thanks to its Game of Thrones filming locations , not to mention all of its breathtaking cities and spectacular scenery.
It's Croatia's picture-perfect coast that's also proven a hit with holidaymakers, from the mainland shores filled with picturesque beaches and bays  to the idyllic islands just a short boat ride away.
However you won't just find sandy beaches in Croatia. In fact, the majority of the coastline tends to consist of pebbles and shingles, but that hasn't stopped visitors from being able to enjoy the glorious scenery.
Whether you're after the best beaches in Dubrovnik, Split or the plethora of islands on offer, get ready for some major travel inspiration as we take a look at some of the most beautiful beaches in Croatia you won't want to miss.
Adding all of these to our bucket lists right now…
Located on the picturesque island of Brac, this pretty beach is just a stone's throw away from the harbour town of Bol, making it an ideal location for those who want to do a bit of exploring as well as sunbathing.
Although from afar the beach looks like it's sandy, it's actually  white pebbles which often surprises tourists. Meanwhile the crystal blue waters are ideal if you want to take a dip.
Peak season it's packed which is fine if you're after a bit of atmosphere, but if you want somewhere quiet then you may want to consider elsewhere, the other side of Bol past the church there is a quieter beach much preferred by the locals.
As well as exploring the breathtaking Old Town of Dubrovnik, you may want to make space on the itinerary for Banje Beach, where you'll find everything from upscale bars and beach clubs to families enjoying a picnic on towels on the shore.
Because of its close proximity to the city the beach can get quite busy, but it's well worth it for the incredible views you'll get of Dubrovnik, not to mention if you take a boat tour you can visit some of the islands off shore.
One of the more well-known beaches amongst holidaymakers, Sveti Jakov is still a little less crowded than hotspots such as Banje Beach.
There's a restaurant if you want to dine with a view, and although it's a pebble beach it's fine enough to lie out and soak up the rays – not to mention the turquoise waters are perfect for swimming!
If you're after a secluded beach that's perfect for chilling and relaxing, then Kolovare Beach should be on the itinerary.
A little further out in Zadar, ten minutes from the Old Town, the beach tends to be more of a local hangout meaning you won't find hordes of tourists, or all of the restaurants/bars/beach clubs that often accompany the crowds.
There is a café if you're peckish and you can find parasols so it's not completely secluded but it's ideal for those who want somewhere a bit more peaceful.
These islands look like something out of a film set with their lush green scenery and pristine beaches, the latter which are a mix of sandy and pebbled.
Easily accessible from the glamorous town of Hvar  – little taxi boats run back and forth all day you'll find they're perfect for a day trip of exploring and enjoying time away from the crowds, before heading back to Hvar's bustling harbour.
For a fuss-free beach holiday look no further than Punta Rata Beach. There are plenty of great hotels nearby, the waters are perfect for swimming and the beaches offer a mix of crowds and quieter spots whether you're heading with the kids or on a romantic retreat.
Not to mention that the green trees, impressive rocks and nearby mountains all make for a pretty epic backdrop.
More Information