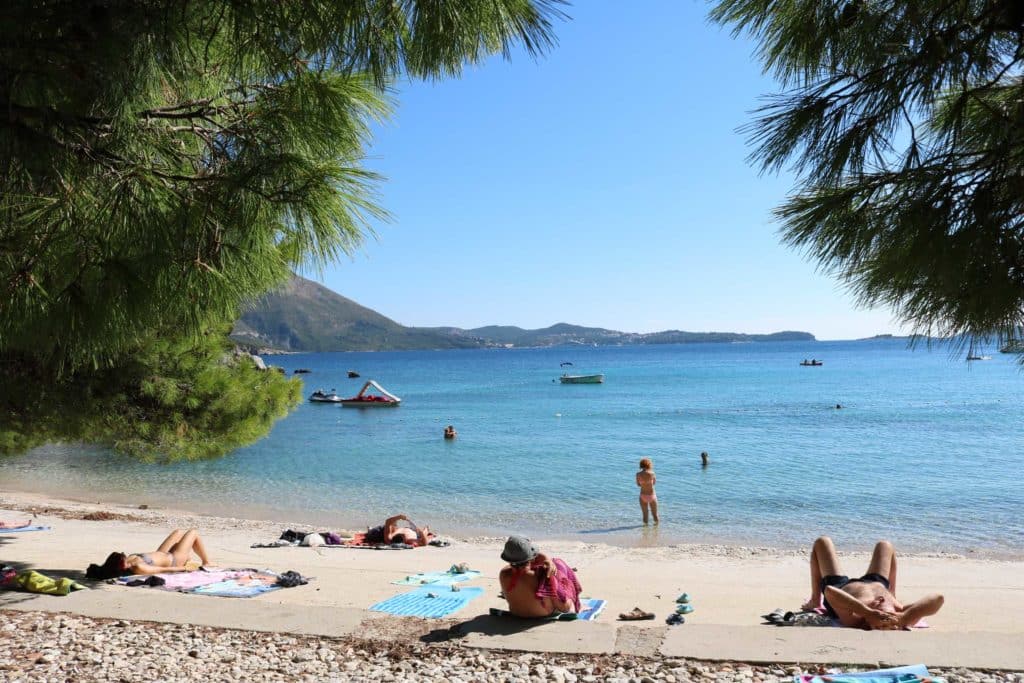 Get the low down on last minute Croatian villas, rental available for the summer holidays
by Croatia Gems, 29th March 2023
Croatian villas rent out generally from early May until the end of October, but the most popular times are the summer school holidays.
These eight July and August weeks tend to book up early, but there are always free weeks we can find for you in one of the key Croatia villa locations. Whilst we have others, have a look at this 'pick of the bunch' of beautiful family villas still with school holiday availability this year.
Dubrovnik villas
Villa Turquoise (above), is the perfect family villa. Sleeping up the 8, it has 3 en-suite double bedrooms (one of which can be a twin), spacious open plan living area and fabulous sea views from all rooms. It's in a brilliant location close to the beach, restaurants and food shops in Mlini bay. The bay has a variety of restaurants, beaches, children's play areas and lots of water sports on offer. The villa is just 10 minutes' drive from Dubrovnik and 25 minutes from the airport. You can also get the water taxi into Dubrovnik old town or along to Cavtat from the harbour below the villa and the bus is good too. It has some weeks free in July and August 2023 and has just been discounted to €4,599 per week (approx. £3,999).
Croatian villas – rent a rare apartment that comes with a private pool! Villa Ante has 3 bedrooms and sleeps 8 guests and is really well-located in Cavtat bay. It's an easy walk into elegant Cavtat where you'll find restaurants cafes, beaches and water sports. Be on the sun lounger in record time as Cavtat is just a 10-minute transfer from the airport! €2,763 per week (approx. £2,303).
If you need 4 bedrooms, have a look at Villa Zaton. With its garden and play area it's a particularly child friendly villa great for smaller children. Teens also catered for with table tennis, games room and home cinema/gaming room. Zaton village has restaurants, beaches and a little shop and you're not far from Dubrovnik or the facilities of the Sun Gardens resort. €4,224 per week (approx. £3,673).
Larger villas in Dubrovnik
Larger again, fabulous Summer Villa is set in large gardens, with badminton and boules to amuse you. A former family summer residence, it has 5 bedrooms, is just 10 minutes' drive from Dubrovnik. And there are beaches, restaurants, water sports and water taxis in walking distance in Mlini bay. €7,875 per week (approx. £6,848).
Villa Cavtat can sleep up to 15 in 6 bedrooms – one of those villas great for multigeneration groups. It's an easy walk into elegant Cavtat bay where you'll find restaurants cafes, beaches and water sports. Just a 10-minute transfer from the airport and 25 minutes' into Dubrovnik. €8,750 per week (approx. £7,609).
Split Croatia villa
Find contemporary styling with Villa Marissa (above) and Villa Lendra which both share very good locations overlooking lively Okrug Gornji. Both with 3 bedrooms and lots of extras, they are within walking distance of beaches, bars and restaurants. Okrug has a good bus service or water taxi to get you into UNESCO Trogir old town in no time. Marissa is €5,250 per week (approx. £4,565). Lendra is €4,731 – €5,233 per week (approx. £4,114 – £4,550).
Well-priced 4-bedroom Villa Olivine is found in the fortunate location between Trogir old town and Split, but no need to move far to walk to beaches, restaurants and beach bars. There'll be a new BBQ/summer kitchen for this summer (photos awaited). €4,867 per week (approx. £4,233).
Larger Split villas to rent
If you move fast, there is just one August week free at popular Palm Tree Villa (above). On the beach and with 6 en-suite bedrooms, a games room on the beach, kayaks, gym and sauna. You hardly need to move far for a choice of other beaches, restaurants, beach bar, great convenience store and a water taxi nearby. Great location close to Trogir old town – super host. €7,486 per week (approx. £6,510).
Or maybe one of the sea-edge Cinquento villas – just 5 on a little development close to Slatine village. Arranged as 2 x 3-bedroom apartments sharing a pool, one villa would be super for two families sharing. The water taxi to Trogir and Split old town leaves from Slatine harbour. Close to everything. €7,070 per week (approx. £6,148).
Croatia villas on Brac island (50-minute ferry hop from Split old town or have a private boat transfer from the airport jetty):
Croatian villas – rent a villa for just 1 or 2 couples? Villa Blue is a lovely conversion to a 2-bedroom villa with pool. Just 2km from Sumartin with its variety of beaches and ferry to Makarska. Selca village will provide you with everything you need – restaurants, cafes, shops, and even an Olive Experience. The lovely square and sculpture park is fringed with cafes. €3,553 per week (approx. £3,089).
Popular 3-bedroom Villa Sinatra (above) is just steps from the sea, with its own mooring. Close to beaches, restaurants and a beach bar, it's just a 15 minute walk into Sumartin with more. €4,843 per week (approx. £4,211).
Need 3 or 6 bedrooms? These two wow-factor 3-bedroom villas, Villa Pax and Villa Vitae (both, above) can be rented individually, or together as super-stylish Villa Harmony thus providing 6-bedrooms. Great for two families holidaying together. They do any changeover day, so make the most of cheaper weekday flights. They are in elegant Sutivan with its lovely beaches, great restaurants, bicycle-friendly cafes and children's park. This a super place to stay. Close also to lively Supetar where the ferries come in and which also has an open-air cinema and more for the children! Each villa is €8,330 per week (approx. £7,243), or discounted if you rent both together, to €15,330 per week (approx. £13,330).
If you want to create that relaxing feeling of being on your own island, sea edge Villa Olive Bay (above) with its 4-bedrooms is for you. Moor your boat at the bottom of the garden or take a very private early morning dip in the Adriatic – heaven! Check back soon as we think this one is going to be discounted, but currently it's €12,040 – €15,750 per week (approx. £7,852 – £10,469)
Istria for Croatia villa to rent (fly to Pula)
Villa Davina is a super-cool, well-equipped, 4-bedroom villa near beautiful Rovinj. Everything walkable, although you may want to hop on the bus to the beach if it's hot (2km). €6,332 per week (approx. £5,506).
Villa Dream (above) is a feast for active groups – football, basketball, tennis, golf, gym etc– all on site. 5-bedrooms, sleeping up to 14, a short drive to the beach. Croatian villas – rent this stylish, well-equipped villa and you'll have happy kids and possibly go home fitter! €9,800 per week (approx. £8,521).
More school holiday Croatia villas
We have more villas free in the school summer holidays. You can either search our villas portfolio by size or by date, not forgetting our 'On Request only' villa collection. Or contact us by email or phone and we'll look out what we have free for you.
Please note: £ (Pounds Sterling) prices are approximate and based on an exchange rate of 1.15.
More Information