Sleeps 6+2, 4+2 or 3+2 | 13 Apartments | Pool | Sea Edge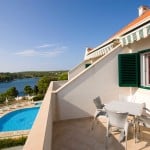 "The apartment was very clean and spacious with a fantastic view – the pool was lovely & we liked the proximity to the beach – the walk to the town was easy"
EMERALD APARTMENTS – MILNA BAY, BRAC ISLAND
Benefiting from a very nice pool these popular family apartments with pool are situated right on the sea, within an easy wander of the restaurants in charming Milna Bay.
Description
The south facing Emerald apartments are lovely family apartments with pool  and are perfectly located in a south facing sunny position on the edge of the  bay of Milna on Brac Island. They are fast becoming a favourite with our families as they make a really good base for exploring the area. Situated in a lovely bay just a 10 minute walk from Milna centre and the new Marina. There are a couple of restaurants and a shop in the bay but wander into Milna and here you will find a greater selection of restaurants and bars and a new beach club too!
All these family apartments with pool have air conditioning (central unit), Sat TV, Fridge Freezer, Parking and Balcony's /Terraces. Internet is available around the pool area and there is a shared BBQ area on site.
There are now regular ferries going from Milna across to Split and also taxi boats across to Kastel (which is very near Split airport). Regular buses go through to Supetar port and from there you can catch buses to anywhere on the island. Supetar has lots of little restaurants, supermarkets and craft shops and even a cinema! there are trampolines for the smaller children and usually an aqua park /inflatable in the shallows, If you're after more of a beach then between Milna and Supetar is Sutivan a favourite with Split locals, really long beach, shallow clear water for children and loads of sports even a little petting zoo – a favourite location for our families.
There are some lovely restaurants on the island which not only have a good choice of local fish which abounds in the area, but also the local speciality – mountain lamb which is cooked  ' under the bell ' you must try some of the excellent local wines too – The island has several 'agritourism' spots now – at Supetar they have an olive trail – a lovely walk meandering through several farms specialising in everything from olives to cheese. Several farms and vineyards have opened restaurants to celebrate their local produce too.
If water sports are your thing, head to Bol and its famous beach where there are several wind surfing schools – quite a few national and world competitions held here as the beach just out into the sea and catches the afternoon wind. Milna has a great sea kayaking company which cater for all levels of fitness and ages, and there are good diving places too, most Padi-registered, which can introduce you to diving – or if you are already qualified they run some wreck dives.
All around the island you will find cycle paths, this island is hugely popular with cyclists – Hiking trails take you to secluded bays and amazing views from Vidova Gora on a clear day you can see right across to Italy. Or hire a little boat and potter round to some of the little bays for a picnic – some can only be reached from the sea so if your lucky you will find one just for you.
Emerald family Apartments with pool are an affordable option for couples and families alike.
Accommodation
Apartments Interior & Specifications
Please click the link above for photos of each apartment and the apartment type of these family apartments with pool.
Overview
HOUSE A (APTS A1-A6)

4 Apartments Sleeping 3+2 (1 bedroom sleeping 3 with extra beds for 2 people)
2 Apartments Sleeping 4+2 (2 bedrooms with extra beds for 2 people) with Gallery
HOUSE B (APTS B7 – B12)

3 Apartments Sleeping 4+2 (2 bedrooms with extra beds for 2 people)
2 Apartments Sleeping 6+2 (3 bedrooms with extra beds for 2 people) with Gallery
3rd HOUSE (M5)

1 Apartment (M5) Sleeping 4+2 (2 bedrooms with extra beds for 2 people)
Apartment Specifications
*Where an apartment "Sleeps 4+2" it means that it sleeps 4 guests in proper beds & "+2" in extra beds. Please see the actual apartment description for more information.
Apartment
Apartment Name
Floor
Apt Type / Sleeps*

Terrace / Balcony
View Type
Oven / Dish washer
HOUSE A
A1
Pink Rose
Ground Floor
3+2
 Terrace
 Sea & pool
No
A2
Peach Rose
Ground Floor
3+2
 Terrace
 Sea
No
A3
Orange Rose
1st Floor
3+2
 Balcony
 Sea & pool
No
A4
Green Rose
1st Floor
3+2
 Balcony
 Sea & pool
No
A5
Red Rose
2nd Floor
4+2 with Gallery
 Balcony
 Sea & pool
No
A6
Light blue Rose
2nd Floor
4+2 with Gallery
 Balcony
 Sea & pool
No
HOUSE  B
B7
Brown Rose
Ground Floor
4+2
 Terrace
 Sea
Garden view/sea facing
B9
White Rose
1st Floor
4+2
 Balcony
 Sea & pool
Yes
B10
Blue Rose
1st Floor
4+2
 Balcony
 Sea
Yes
B11
3 Bedroom Apt (Black Decor)
2nd Floor
6+2 with Gallery
 Balcony
 Sea
Yes
B12
3 Bedroom Apt (Pink Decor)
2nd Floor
6+2 with Gallery
 Balcony
 Sea
Yes
EXTRA APT
M5
2 Bedroom Apt M5
Ground Floor
4+2
Terrace
Partial Sea &

Car Park

Yes
Local Amenities
Town centre: 1000 m / approx 10 minutes walk to the centre of Mlina
Restaurants & Bars: 500 m – there are a couple of restaurants, bars & mini market in the bay under the family apartments with pool & Milna centre is a 15 minute walk away which has more restaurants, bars & another shop
Bars: 2 nearby in the bay
Rent a boat/scooter: 500m
Sea: 50 m
Beach: 50 m (steps down to beach level or use lane)
Grocery shop 200 m plus another in Milna centre, Supermarket
Pharmacy: 700 m from Apartments & in Supetar
Atm: 1000 m in Mlina centre
Direct Catamaran: 250 m from Apartments. Milna – Split normally twice weekly (please check timetable)
Ferry port (car ferry):  Supetar, 21km (approx 30 mins drive)
Map
Reviews
"Hi Helen
I just wanted to drop you a line to say we had a great time in Croatia. I'm so glad we went.
There was no hassle at all with airports or long queues.
 We really liked Milna, I think it's the nicest town on the island and the apartments were basic but well placed for Restaurant Bago which I think is the best in town (having tried nearly all of them).
We rented a boat for 2 days and had a lovely time snorkelling and mooring up at nice restaurants in nearby villages. We really enjoyed taking the boat to Boboviska (the next bay) and mooring up and eating there.
Thanks again for making it all happen in such challenging times!
Caroline" August 2021
"Hi there,
We had a great time and the apartments were very clean and spacious, faultless in fact, even had a washing machine. Milna is a lovely area and we would go again. Restaurants just along from the apts were very good.
Regards,
N M " 25 August 2018,
"Hi Helen
Yes we had a fabulous time in Croatia and the apartment was perfect for us and a great location. The best restaurant we found was Galicija behind Milna harbour where we received great service and great food. Debbie "Aug 2017
"Hi Helen
"All was great thank you.
Accommodation was lovely, very clean. The closeness to the sea was brilliant.
Most of the restaurants were good, but I didn't memorise any names I'm afraid.   
We used the taxi driver that Lada provided for our pick up. He drove us to a few places around the Island and was brilliant. I would recommend everybody gets his phone number.
Regards, Nick"  July/August 2017
"Dear Denise
I just wanted to say that we absolutely LOVED the Emerald apartments as well as Milna itself – what a fabulous recommendation.  It was by far our favourite place on Brac which is very charming.  Thank you so much!
Very best, Julia" August 2016
"We really enjoyed the holiday, everything went well.  Split airport was a joy to arrive in being so small, once we found the car hire place we drove to the ferry terminal and to Brac. The apartment was very clean and spacious with a fantastic view and Martino was very helpful.  The pool was lovely and we like the proximity to the beach.  Going round the island was easy. We visited Bol and Rat beach twice and Supetar once. We loved Milna and all the restaurants were great – the walk to the town was easy to do each evening. Overall it was a fantastic, relaxing holiday and we will defiantly think of going back (normally we go to France as we have a place there but I am tempted by Croatia again!!). Many thanks and best regards, Lindsay" Aug 2014
Prices
Prices Per Week
All prices are in Euros (€) per villa/ apt/ room. Prices shown in other currencies are indicative and an estimate only.
Most villas and apartments are booked by the week – please ask about booking less than 7 nights.
Where short stays are possible, there is a 30% supplement for stays of 3 nights or less
Please note: Some prices may still be in the process of being confirmed – please confirm price on booking.
Call for a Chat…
We spend a lot if time visiting the areas and villas so we know them all well. Feel free to give us a call on

UK +44 (0) 117 409 0850 USA +1 (0) 914 826 8530

and we'll be happy to help at whatever stage of planning your holiday you are at.