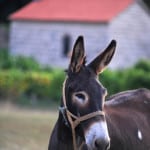 Konavle is located around 30km  east of Dubrovnik, towards the border with Montenegro. The largest town in the region is Cavtat. Cavtat today is a tourist town that is very popular. The five star Hotel Croatia is in Cavtat and is well known as one of Croatia's top hotels. It's a wonderful place for walking and exploring as the old part of town has no hills with a promenade that runs the length of its peninsula.
If you are a lover of diving, don't be surprised if you find an amphora because the area around Cavtat is one of the richest in the whole Mediterranean in terms of Roman amphora.
For those that love nature's attractions, we recommend seeing the Sipun cave which is known for its lake and large hall with stalactites.
If you'd like to go swimming while you're in Konavle then it's best to go to one of the most beautiful beach on the Mediterranean – Pasjaca.
If you're not a lover of the beach and prefer gastronomy then that's where Konavoski dvori with its local specialities, comes in. Not only can you enjoy their dishes, but the natural surroundings and exploring the old mills on the River Ljuta too.
Going on a trip to Konavle is the best way to get acquainted with the tradition and culture of this unique region.