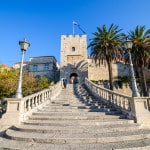 Korcula Island – Authentic Croatia Villa Holidays
by Saron Lease, Croatia Gems Company Founder & Director
Korcula Island – the new Starlet of the Croatian Coast & one of our favourite islands, Croatia Gems takes a look around Korcula Island, a top location for authentic Croatia villa holidays.
Korcula Island is often missed just like it's neighbour the Peljesac Peninsula, but it is a superb place for a Croatian holiday. And on Korcula Island, you will still find authentic Croatia. Korcula Island also has fantastic beaches. One of the main Dalmatian islands, Korcula Island, sits next to Brac Island and Hvar Island on one side and Mljet Island on the other and is one of the most easily reached islands, being just a 5 minute boat hop from the mainland at Orebic on the the Peljesac Peninsula. It is now gaining momentum as holiday makers begin to discover its sublime coves and beaches, it's clear waters, it's pretty fishing villages and of course the beautiful medieval town of Korcula itself…

So Korcula Island, what's it all about…?
The great thing about Korcula is that it's got it all covered – the places are all quite small so it's easy to get anywhere and if you stay near to a village, you can easily wander to restaurants and activities – the sea is never far away of course. Apartments are a great way to have a base and experience the area, and there are hotels centred around the towns. If you want somewhere a bit more private there is an increasing upply of very nice villas on Korcula – off the beaten track but without the need to go too far…
Where to base yourself?
For a family villa holiday in Croatia, Zavalatica Bay is a beautiful place to base yourself if you want to explore the island – on teh sea edge and with a wonderful beach and a handful of restaurants, it's magical. We'd suggest exploring the island from here. It's next to one of the best wineries on the island too so that's a definite plus for us as this is wine country. Check out Villa Zavalia for a touch of island luxury and a fab familiy holiday.
Explore Korcula Island!
Korcula Town
Korcula town is one of the best preserved medieval towns of the Mediterranean. Like a jewel jutting out of the land this is a beautiful little town and supposedly the birthplace of Marco Polo. It has plenty of meandering streets to wander along, and cosy little shops, bars and restaurants to stop at. There are quite a few useful tour operators here if you want to find out more about the island and trips you can take – try Marco Polo tours at the old town. Likewise if you'd like to make the most of the  the crystal sea for snorkeling or diving then you can find out in Korcula. It's also worth walking up the hill to see the view over the old town out to sea – it's breathtaking! The Tourist Office can also provide you with information to make best use of your time if exploring the island by car – ask for maps and places of interest.
Lumbarda
The island of Korcula is lush with green vegetation and aromatic plants. It has many lovely coves and beaches for swimming – Lumbarda beach is particularly beautiful and a favourite of the islanders themselves (when you drive onto Korcula Island from the car ferry, head up the hill and turn left following signs to Lumbarda – the beach is signposted from there and is to be found after the village of Lumbarda).
Korcula also has its own little islands!
Discover Badija, Vrnik, Planjak and Kamenjak! Perfect for snorkelling, exploring by boat or relaxing on to get away from it all even more than you already were on Korcula island! These little islands make Korcula a very protected area with calm mill pond sea and coves. Lovely!
Brna Bay & Prizba
Brna Bay and Prizba have wonderfully pretty scenery and beaches – worth a stop off and a swim if not a longer stay…
Zrnovo
This is well known for its old cypresses, terraced vineyards, stone houses, the bell towers of Zrnovo, its churches and olive groves. There is a nice walk route from Korcula Old Town or Zrnovka Banja to Zrnovo too (20 min) which is worth doing if it's not too hot! There are pretty bays on the southern side of the Island- Orlandusa, Rasohatica and Pavja Luka are on walking distance from Zrnovo (up to 40 min) – a nice choice for swimming in clear and clean waters. If you are in Zrnovo, don't miss breathtaking views from Mratin Hill and Brdo, as well as Kocje cave.
 Racisce
Racisce is a fishermans village located in the one of the northern bays of the island.  Check out the bays of Vaja and Samograd which have prehistoric caves. They are also lovely to swim in if you need a break! You can also walk the route from Racisce and Kneze to the village of Pupnat
 Pupnat
Pupnat is the oldest settlement on the island dating back from Illyrian times and the architecture is extremely well preserved. A must see is the gorgeous Pupnat Beach 'Pupnatska Luka'- this beach can get busy as it's so nice so get there early!
Smokvica
Smokvica village is on the main road to Vela Luka is famous for its two white wines – Posip and Rukatac which have to be tried! Check out the nearby bay of Brna (4 km away), which is one of the largest bays on the Island, and the bay of Istruga if you fancy a swim. 
Cara
This village is right in the middle of the Island and about 25km from Korcula Town. It is well known for producing the white wine Posip so try some if you're there. If you'd like to swim then the nearby bays of Zavalatica and Zitna are nice spots and have a couple of restaurants with lovely views of the sea.
Vela Luka
Vela Luka is a beautiful town at the other end of the island of Korcula from Korcula town. You can take a boat trip to the Island of Love (Osjak) which is home to a protected forest or to the Island of Prozid. This is another place famous for its healing mud!
This is a great place to stay – the town has lots of restaurants and bars and there's plenty to do – swimming, tennis, yachting etc The town also has prehistoric remains from the Neolithic era which you can visit. It has frequent ferries and hydrofoil connection to Split and Lastovo.

If you'd like to try out a Villa escape on the Island of Korcula or one of the other Dalmatian Islands, take a look at what Croatia Gems has to Offer.
More Information
Browse Villas on Korcula Island
To book villas, contact Croatia Gems Villas: [email protected]
Find out More Information about Korcula Island, Croatia
Explore the best Beaches on Korcula Island for your Croatia Holiday…
Check out Things to Do on Korcula Island
Search Flights to Croatia
Check out our Special Offers Page