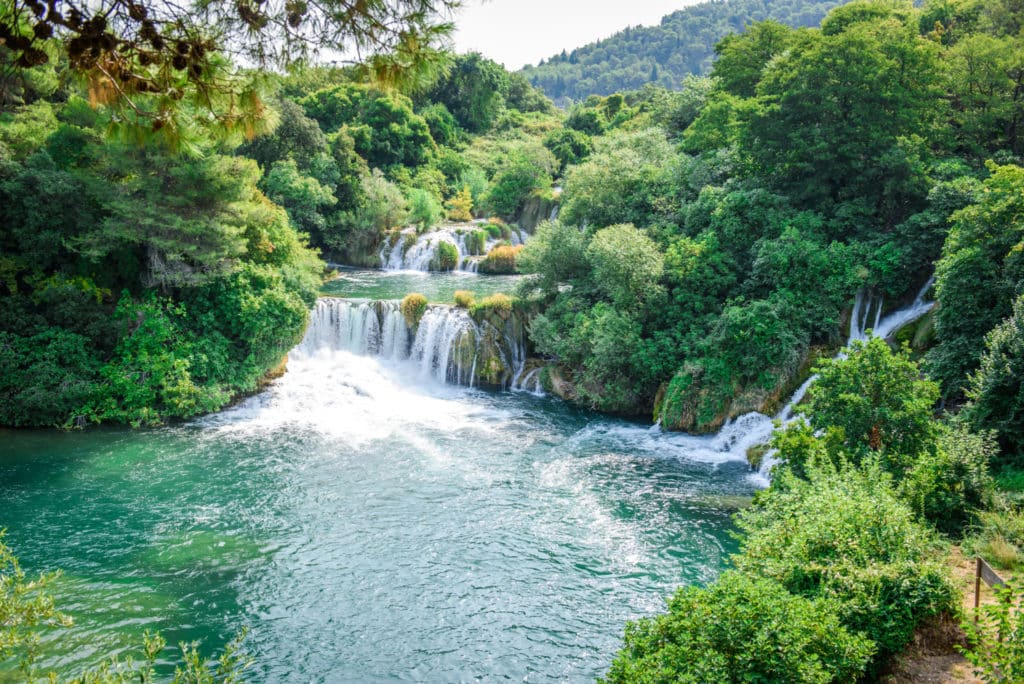 Stunning Scenery, Krka Waterfalls & Picturesque Villages Along the Coast
EXPLORE KRKA WATERFALLS & SIBENIK
The most popular day trip from Split/Trogir – A rare chance to swim near the waterfalls and enjoy a UNESCO World Heritage cathedral – Wonderful views and scenery on a day to remember.
Enquire & Book Direct with Supplier
OVERVIEW
The excursion provider says: After picking you up at the pre-arranged meeting point our excursion to one of the most popular sites in Dalmatia begins by driving along the border between the coast and the hinterland. In less than an hour, you will be greeted with a breathtaking view of the town of Trogir and Split surrounded by the sea and a landscape filled with greenery, village households and life. Then it's on to Krka National Park and Skradinski buk, one of the best known natural beauties of Croatia.
Our professionally-guided tour includes a fascinating walk through an authentically restored ensemble of small stone houses, workshops, exhibits  and watermills which show how water was used to make village life possible and sustainable centuries ago.
Then we'll begin our nature walk to enjoy the rich diversity of flora and fauna through a network of forest pathways as well over wooden bridges. After about 90 minutes, our transport will then take you to Roski slap,  a beautiful, quiet, untouched natural preserve perfect for swimming and relaxation. After the break you will have the opportunity for an optional lunch in a typical Dalmatian konoba (tavern) where you can taste local delicious traditional food like prosciutto, cheese, hearty bread and wine and local fruits and vegetables.
After lunch, we will take a road that leads us up to one of the most exciting Krka River canyons. Along the way you will enjoy the same kind of  breathtaking views that professional photographers capture to illustrate Croatian tourist brochures—like the panorama of Visovac Island. Then we say good-bye to the Park to continue our trip to the seaside city of Sibenik, to see its main attractions – including St Jacob's Cathedral, which is a UNESCO World Heritage site. We will return home along the beautiful coastal road, passing by picturesque villages, such as Primosten and Marina, and beautiful offshore islands.  
ITINERARY
*Pick up is from Trogir & Split – exact location & time to be confirmed on arrival
08:30/ 9:00      Pick up and departure from Split / Trogir
10:30 – 13:00   Sightseeing of Skradinski buk
13:30 – 15:45    Sightseeing Roski slap, time for lunch
16:30 – 18:00   Sightseeing Sibenik & Cathedral of St. James
19:30                  Arrival in Trogir / Split
SCHEDULE:
15th Apr to 31st May /1st Oct to 15th Oct       Tuesday, Thursday and Sunday
1st Jun to 30th Jun / 1st Sep to 30th Sep        Tuesday, Thursday, Friday and Sunday
1st Jul to 31st Aug             Every day
Price per person:
15th Apr – 30th Jun                 420kn
1st Sep – 15th Oct                      420kn
1st Jul – 31st Aug                       450kn
WHAT TO BRING WITH YOU
  Sportswear, bathing suit, suncream, sunglasses, towel, comfortable walking shoes or sandals, additional change of clothes. Outside the summer months we recommend you also bring a warm sweater.
---
Prices – Public Excursions
Prices are Per Person in Croatian Kuna / Approx £
EXCURSION
DAY
APPROX TIME (of departure from Split)
INCLUDES
NOTE
PRICE PER PERSON (Kn)
PRICE PER PERSON (Approx £)
Blue Cave & Hvar Island
May, June, September
July and August
Every Day
08:00 / 08:30
Transport, entrance ticket
840
940
100
112
Plitvice Lakes (Summer Season)
1.7 - 31.8 Every Day

07:30 / 08:00
Pick Up, entrance ticket, guide
710
85
Plitvice Lakes (Lower Season)
1.5.-30-9 Every Day, 30.4./1.-15.10 Mon, Wed, Fri
07:30 / 08:00
Pick Up, entrance ticket, guide
600
72
Krka Waterfalls & Sibenik
1.7 - 30.9 Every Day
01.05. -30.06 / 1-15.10. Tue, Thu, Fri, Sun
08:30 / 09.00
Pick Up, entrance ticket, guide
450
54
Dubrovnik
1.5 - 30.9 Mon, Wed, Fri
15.-30.4./1.-15.10. Wed, Fri
06.45 / 07.30
Pick Up, local tour guide
Bring passport
500
60
Mostar & Medugorje
1.5.-30.9. Tue, Thu, Sat;
15.-30.4/1.-15.10. Tue, Thu
06.45 / 07.30
Pick Up, local tour guide
Bring passport
500
60
INFORMATION
*Prices are per person
* Tours can be operated with a minimum of 5 people
*Price includes English speaking guide, other languages on request
*Group excursions can be also organized on other days if enough requests are received
*Pick up is from Trogir & Split – exact location & time to be confirmed by local Rep on arrival
MEETING POINT SPLIT : http://goo.gl/maps/ov8Bl
MEETING POINT TROGIR: http://goo.gl/qoJ0zb
PRICES
Prices are in Croatian KUNA, with Croatian VAT included. Cash payments are due in full on arrival. GBP prices are estimated and are intended as a guide the actual price in GBP depends on the exchange rate obtained by you.
PROVIDER
Henok d.o.o.
Any contract or arrangement you enter into for Additional Services is with the supplier of the services concerned and not Croatia Gems, and the 3rd party supplier's terms and conditions will apply.
TO BOOK
Please feel free to call us for more information on  UK +44 (0) 117 409 0850 USA +1 (0) 914 826 8530  
Enquire & Book Direct with Provider
---
RATHER A PRIVATE EXCURSION?
Prices – Private Excursions
Prices are Per Person or Per Group in Croatian Kuna / Approx £
| EXCURSION | 1 Person | 2 People | 3 - 4 People | 5 - 8 People | 9 - 15 People | INCLUDES | PRICE STRUCTURE |
| --- | --- | --- | --- | --- | --- | --- | --- |
| Blue Cave & Hvar Island | 6840.00 Kn / approx £661 (per group) | 6840.00 Kn / approx £661 (per group) | 6840.00 Kn / approx £661 (per group) | 6840.00 Kn / approx £661 (per group) | Refer to Group Prices (9-12 people only) | Entrance to Blue Cave | Price per Group |
| Hvar & Pakleni Islands | 4560.00 Kn / approx £441 (per group) | 4560.00 Kn / approx £441 (per group) | 4560.00 Kn / approx £441 (per group) | 4560.00 Kn / approx £441 (per group) | Refer to Group Prices (9-12 people only) | Local guide in Hvar town | Price per Group |
| Plitvice Lakes | 2585.00 Kn / approx £250 | 1370.00 Kn / approx £132 | 1065.00 Kn / approx £103 | 910.00 Kn / approx £88 | 760.00 Kn / approx £73 | Pick Up,entrance, guide | Per person |
| Krka Waterfalls & Sibenik | 2130.00 Kn / approx £206 | 1140.00 Kn / approx £110 | 760.00 Kn / approx £73 | 680.00 Kn / approx £66 | 600.00 Kn / approx £58 | Pick Up,entrance, guide | Per person |
| Dubrovnik | 2660.00 Kn / approx £257 | 1370.00 Kn / approx £132 | 950.00 Kn / approx £92 (3 people only) | 760.00 Kn / approx £73 (4-6 people only) OR 680.00 Kn / approx £66 (7-8 people only) | 610.00 Kn / approx £59 | Pick Up, local tour guide | Per person |
| Mostar & Medugorje | 2440.00 Kn / approx £236 | 1220.00Kn / approx £118 | 840.00 Kn / approx £81 (3 people only) | 680.00 Kn / approx £66 (4-6 people only) OR 610.00 Kn / approx £59 (7-8 people only) | 530.00 Kn / approx £51 | Pick Up, local tour guide | Per person |