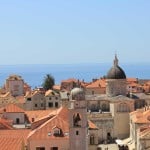 The Love Stories Museum in Dubrovnik
According The Total Croatia News, 11th May,2018
Dubrovnik Old Town has a new museum, dedicated to everyone's favourite subject, Love
The  Love Stories Museum, located near the  Pile Gate in the Old Town, is described as dedicated to "collecting and exhibiting personal love stories and items of great sentimental value from all around the world", the new museum features  a collection of objects emblematic to romantic relationships that have come to life from all over the world.
It's an uplifting display, nestled in intimate, cozy spaces in the very heart of the beautiful historic city – seems like a perfect way to spend your afternoon…
LOCAL HISTORY & LEGENDS – Learn amazing local historical & mythical love stories.
GLOBAL COLLECTION – Enjoy the real world love stories collected and donated from all around the world.
FILM & TV – Experience the drama and romance of legendary film & tv shows filmed in Dubrovnik.
BEHIND THE MUSIC – Meet the people who inspired some of the most famous love songs of all time.
…and much more
Working Hours
| | |
| --- | --- |
| APR – MAY – OCT – NOV |           JUN – JUL – AUG – SEP |
| 10-18 (10am – 6pm) |             09-22 (9am – 10pm) |
More Information