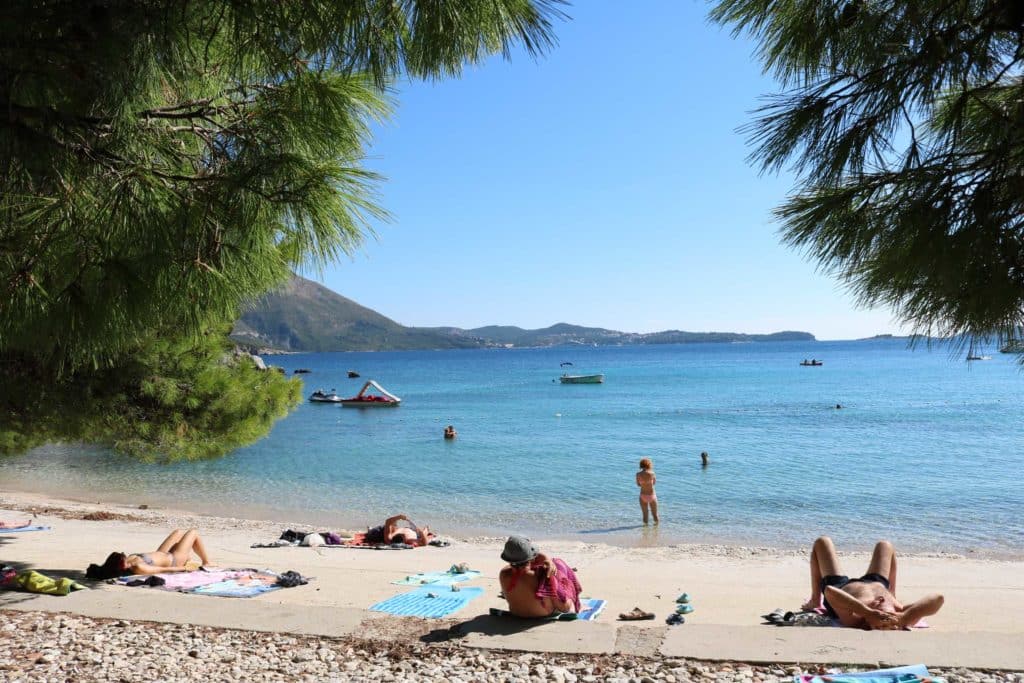 Mlini Villas, Dubrovnik – Mlini Bay has it all for a Croatia Villa Holiday
By Croatia Gems, 31st August 2022
Which villas in Croatia are close to everything? This is one of the most frequently asked for 'must-haves' on the list we get asked to find – which are the Dubrovnik villas that are near the beach, close to restaurants and where everything is just within an easy walking distance! So, it pays to be in the know! Firmly ticking that box are Mlini villas.
Mlini Bay is an easy transfer from the airport airport and set below the coast road, it's a haven for a Dubrovnik villa holiday. It is essentially a large bay fringed with pine trees, a lovely escape from the world because they don't allow cars into most of the bay. Mlini has kept its historic old village. It is complete with mill stone, stream into the sea with little bridges, and a myriad of narrow paths to wander through and explore.
The bay has beautiful beaches and sea-edge eateries serving fresh seafood, traditional dishes and contemporary bar food. Need we say, of course it has ice cream to rival the Italians'. There is a really nice vibe about the place with a good mix of relaxed bars to please all ages. Try the bohemian Pirate Bar on the sea edge with its cool jazz and DJ sets, to live acoustic music from local artists. There are plenty of water sports on offer and all very pleasant and exclusive in feeling, and as with Croatia generally, there's nothing contrived about the Mlini bay area.
Close to Dubrovnik
With Mlini villas, you will find that stunning Dubrovnik is also very close by. Indeed, outside of Dubrovnik Old Town itself, Mlini is the closest location to rent a villa in Dubrovnik. Dubrovnik is obviously the top visitor location in Croatia, however Mlini is so close  The location gives you access to the best of everything whether it be by water taxi, bus or taxi! It's hard to beat Mlini as a destination for your hard-earned Croatia villa holiday.
Because there is something for everyone, Mlini villas make a great choice for family or friends getting together. Young people can be quite independent to do their own thing, and the bay lends itself to relaxation. From early morning jogs to work off last night's excesses, to evening strolls along the promenade that stretches around the bay.  And always allowing time to savour the sunset with a grappa and coffee digestif, or maybe one of those ice creams!
Suggestions for Mlini Villas
Villa Turquoise is a stunning newly renovated villa which sleeps up to 8 guests. It has 3 double bedrooms that offer flexible sleeping arrangements. The fab open plan living area opens up onto the dining terrace to watch the sunsets from, and infinity pool. Minutes from the beach and restaurants.
Villa Anamaria has a fabulous pool terrace with magnificent views over the Adriatic. A contemporary open plan living area and 5 double bedrooms. This villa has been a favourite of our guests over many years. A super host who amongst other things will teach you how to build a great BBQ fire and will take you to the supermarket for your big shop. Just a 10 minute walk down into the bay.
Two Mlini villas side-by side, Villa Kim  and Villa Tereza  usually rented separately or if you are a family group, to rent together – each have 3 bedrooms, sleeping up to 8 guests. Like Anamaria they are set high above the village to take advantage of the views, but still only a 10-minute walk into the village.
Villa Mlini is a well located villa, 5 minutes from the village and a great family villa if a lot in your party want their own room (7 bedrooms, sleep up to 10 guests). Super media room here too!
Villa Lumiere is another firm favourite with our customers – 6 bedrooms, sleeping up to 14 guests, well-equipped with infinity pool and great views, and is in a good location just 5 minutes to the sea, beaches, restaurants etc.
At the Srebreno end of the bay near the exclusive Sheraton Hotel (handy for spa treatments) and convenient shops, we have 5 bedroom Villa Nectara with its larger than average private pool and badminton court. Set in a residential area, it's a near perfect easy level walk to the beach and restaurants.
Tucked away just behind but close to the village, is elegant 5 bedroom Summer Villa in its own landscaped estate with boules and badminton courts, and pool. Super concierge to help you with everything.
Photo © Croatia Gems
More Information