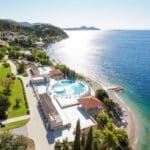 There are some gorgeous beaches in Orasac Bay to suit all tastes so you won't be short of a good beach location to tempt you…
Radisson Blu Resort Beach
For a beach with style, head for the Radisson Blu Resort Beach complete with sunloungers and umbrellas, water sports and trips. There are plenty of eateries nearby to head for when you need a break from the beach.
Hawaii Beach
Pretty Hawaii Beach is located just along the bay from the Radisson and has a more authentic, "off the beaten track" feel about it. With its little harbour and quirky cafe bar, it's a place you couold easily stay all day. There are actuially 2 beaches here, a small one and a bigger one and the sea is fabulous for taking a dip. The scenery is stunning and you will certainly feel as though you have got away from it all..
There are also a few other stunning beaches in the Orasac area nearby, just a short drive away:
Trsteno Bay
Not technically a beach but a glorious place to swim – Trsteno Bay has a famous Arboretum and so the back drop is absolutely beautiful. You can't see the bay from the road but if you head down through the lush plants, you will reach a little harbour at the bottom perfect for diving off into the turquoise water. It's really beautiful. Take water and a snack though as it's not commercialised.
Veliki Zali Beach
Just a few minutes up the road from Orasac Bay is the stunning white Veliki Zali Beach. Once you get done onto the beach you will find a cafe bar and changing facilities plus a water-sports hut. There are also sunumbrellas and sunloungers. Now you just need a book and a hat!
Brsecine Beach
Picturesque Brsecine Beach is set in a picture perfect bay a short drive from Orasac Bay – worth going to see it even if you don't spend the day there though it's hard not to at least have a dip when you get there as it's just beautiful. A quintessentially Croatian beach…