Sleeps 12 | 6 Bedrooms | 6 Bathrooms | Hot Tub | Gym | Pool | Sauna | Beach | Games Room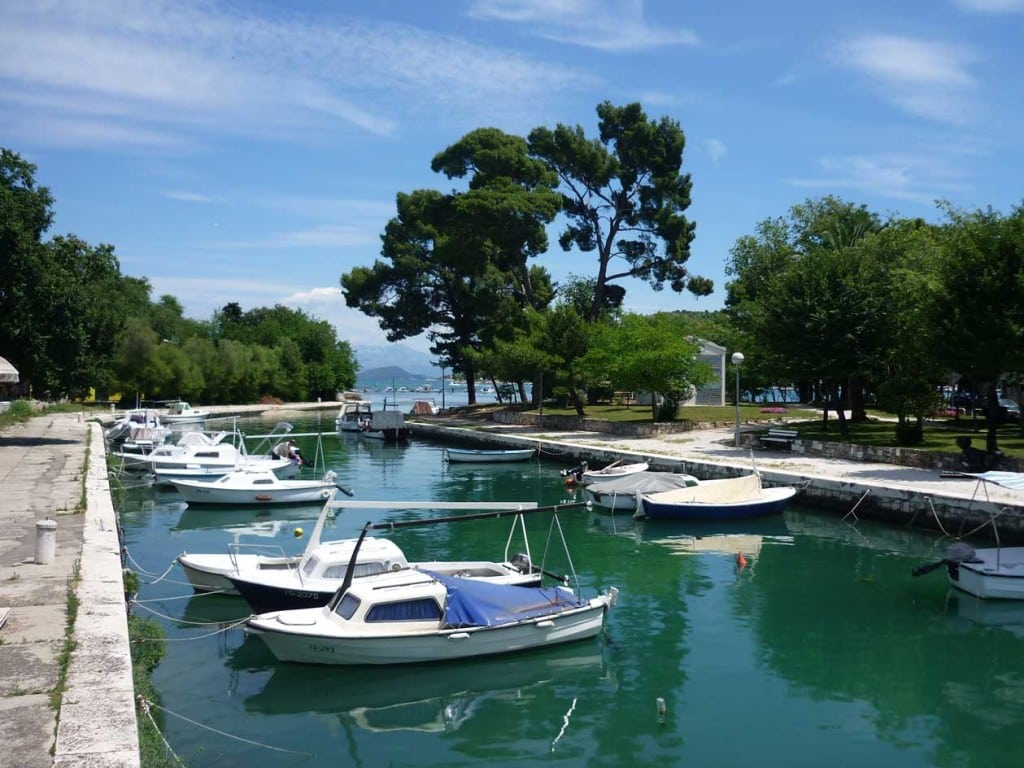 "One of the best family holidays we've had – the villa is in a fantastic location, and is very well equipped, whilst Trogir and the various trips available offer plenty of choice of activities"
PALM TREE VILLA – SLATINE BAY, CIOVO, TROGIR, SPLIT RIVIERA
Palm Tree Villa has a superb position, right on the tranquil sea – just wander down the stunning garden, through the arch and out onto the white pebbly beach – a lovely large beach villa.
Palm Tree Villa is a lovely large beach villa which is located on Ciovo Island, 10 minutes drive from the Unesco Heritage Site of Trogir. The villa is right on the border between the villages of Arbanija and  Slatine Bay. Nearby there are a couple of little beach bars  a local shop and a few restaurants- Restaurant Bistro Plaza, Restaurant Villa Tina, etc…
A beautiful medieval town, Trogir is vibrant and close to Split Old Town – an inspiring place to visit.  If you seek a lovely large beach villa, look no further than this one. It has to be one of the most popular villas on our website, with regular's (and staff!) returning time and time again, the reviews speak for themselves.
There are plenty of things to do in the Split & Trogir Area. This untouched part of the coast line offers you miles and miles of walks around the island, small secluded beaches, fishing, snorkelling and diving. It's a superb environment that will capture your imagination and your heart, as well as rejuvenate your soul!
This lovely large beach villa has 6 double bedrooms of which three can be separated into single beds.  Two of the bedrooms are located in the Garden Apartment (one can be a twin) and the other four are in the main house. You can lounge around in the garden or take a walk to a nearby restaurant – this is a great place to relax. The villa has a fabulous BBQ area with a huge table, perfect for lazy summer evenings with some very moreish, local, organic wine! There is also a games room on the beach exclusive to the villa with pool table, table tennis and darts, and the villa has 2 x 2 seat kayaks at the villa on the beach which can be used by guests. This truly is a lovely large beach villa.
The medieval town of Trogir is 10 minutes drive away where you will find a scrumptious fruit market and countless shops and restaurants, so why not take an evening walk through tiny streets and squares and enjoy great sea food and Italian ice cream!
There is lots to do in area Speed boat to Hvar Island & Pakleni Islands, Boat trip to Vis Island's blue & green cave, discover the Plitvice lakes, visit the Beautiful  Old Town Mostar or Dubrovnik Old Town.
If you are looking for a lovely large beach villa, look no further than Palm Tree Villa.
NB The maximum number of people across the whole property is 12
Palm Tree Villa is a lovely large beach villa
The whole property (Main House + 2 bedroom Garden Apartment) has 6 double en-suite bedrooms altogether.  There is a double sofa bed in the Garden Apartment if needed.
Main House (Sleeps 8)
Parking at the front of the house and path around the side of the house to the sea facing patio
Several steps down to the sea and garden – table and chairs on the patio itself
Kitchen and living room
Pool (7 x 3.5m) and Jacuzzi
Mini fitness suite
4 en-suite bedrooms, 3 with sea view – 2 double bedrooms & 2 twin bedrooms (twin beds slot together to make double beds with no gaps in the middle of the beds!). Bedroom 1 has a bath with shower over (no shower curtain) and all the other bedrooms have walk in showers.
Garden Apartment (Sleeps 4)
2 en-suite bedrooms (1 double bedroom & 1 twin bedroom (again, twin beds slot together to make double beds with no gaps in the middle of the beds!)
kitchen
living area with sofa bed
terrace
Exterior
Kayaks on the Beach: The villa has 2 x 2 seat kayaks at the villa on the beach which can be used by guests
Games Room on the Beach: with pool table
Other information
The house and apartment both have air conditioning.
There is wifi available for guest use at the house.
The house and apartment have a hairdryer each, so there are 2 available for use altogether.
There is a washing machine.
Pool towels are supplied.
Boat mooring possible at this lovely large beach villa – please enquire.
NB The maximum number of people across the whole property is 12
There is some fabulous coastline near this lovely large beach villa – this location is great because you are close to the un-spoilt, and more undiscovered, bays and beaches of  Slatine Bay along to the end of Ciovo Island, that typify the beauty Croatia is known for. But Trogir Old Town and the busier beaches and villages of Okrug Gornji are also within easy reach. Ask us to tell you where the best places are!
Transfer: 25 minutes by car from Split airport via bridge connecting mainland to Ciovo Island (no ferry crossing required). Frequent bus service also available if car hire/transfer not desired. Taxis available or bike hire.
Shops: a short walk from the villa
Restaurants/ bars/ cafes: a short walk from the villa
Swimming: in front of the villa!
Beach: in front of the villa!
Hiking: yes – all around – the island has lots of country side
Boat hire: yes in Okrug or Trogir
Pharmacy: in Trogir
Car/Passenger ferry: Split (40 minutes away)
Airport: Split (25 minutes away)
Mobility Rating: 1
Car recommended: optional
Water Taxis: yes, to Trogir & Split

To Trogir, from nearby Sveti Kris in Arbanije (approx 10 mins walk / 1km)   – the boat costs 15 Kuna (approx £1.50 – £2 each way to Trogir)
To Split, from nearby Slatine (20 mins walk / 3km or hop on a bus) – the boat costs 25 Kuna (approx £2.50 – £3 each way to Split)

Bus: quite good bus line nearby during the summer – the bus stop is approx 100m from the villa by the local Tommy supermarket and buses run to Trogir every 1-2 hours – it costs 15 Kuna (approx £1.50 – £2) per person, each way
Taxi to Trogir/Okrug Gornji: Our local rep can arrange a pick up and drop off for you from the villa to Trogir Old Town or Okrug Gornji for approx £25 (please confirm price on booking) and this is cheaper than a taxi would be so a good option if you want to be driven.
Day Trips & Activities

Kayaks: The villa has 2 x 2 seat kayaks at the villa on the beach which can be used by guests.
Diving & Snorkelling: Buy snorkel equipment locally and snorkel at the front of the house! Or if you want to do more serious diving or snorkeling trips, head for the dive centre at Mavarstica on the south side of the island (approx 5km away).
Fishing: Fishing trips are available for a few hours normal fishing – get collected by a boat and off you go! Night fishing or big game fishing is also available and can be booked on arrival with our rep.

Windsurfing: Not recommended in front of the house but the villa owner has a board and sail and is happy to rent it – not advisable unless you have had lessons. For lessons and proper windsurf hire, we recommend the Hotel Medena complex (approx 10km away) which has good provision.

Trips and Excursions: There are a variety of different activities and excursions that can be booked the Villa Manager at the exceptional luxury beach villa will be glad to help.
"Hi Helen
Thank you for your email. We all had a fantastic holiday at Palm Tree Villa, made even better by the owner who picked us up at the airport and continued to be a taxi service for us, which was incredibly helpful. He and his wife even cooked us a traditional meal one night which was lovely.
The villa was very well equipped, everything we needed.
Your company kept us informed all the way through a very difficult time really what with all the tests we had to do! I would highly recommend your company to friends.
Kind Regards
Jane" August 2021
"Hi Helen
Apologies for late reply.  We loved Palm Tree villa, the location on the beach is amazing and it's a great house for a large family group with teenagers, they had the cottage to themselves. Matko was a very good host and fixer, he couldn't do enough for us.  We ate locally mostly, did like Villa Tina. The Zen beach bar to the right hand side up the beach was also a good venue for drinks.  The villa is well stocked and maintained, my only minor point would be more plastic glasses, the glass cabinet was delicate and had a lot of long stemmed glasses which worried me!  
I would definitely go back and recommend it to anyone.
Best
Maria" July 2019
"We had a fabulous time in the villa.
Stunning setting. Sea was crystal clear for snorkeling.
Family enjoyed all the facilities on offer especially, pool, kayaks and games room.
Air conditioning was a blessing as the weather was so hot. Matko was extremely helpful, We arrived on an early flight. He was very accommodating & stored our luggage. Kids got changed in the house which meant we could head out to the beach and  Cleaners were out by 1pm so it was great to get in early.
Portal Trogir transfers were effortless, We had a fantastic driver, so friendly and informative.
Kind Regards, Mary J" July/August 2019
"Hi Helen
Sorry straight back to it.. yes it was a great villa and all went very well. Matko was very helpful and a great host. The villa was lovely and the sun shone! 
We only did the usual things so nothing new to add, but all very impressive!
Mike" June 2019
"We have had an amazing week at Palm Tree Villa. The villa was wonderful, Matko has thought of everything. The views were stunning. Would love to go back. Matko was very helpful changing our boat trip due to the weather and organising a taxi to take our friends onto Dubrovnik.
We still had a great week and all fell in love with Croatia.
Will definitely use Croatia Gems again. Please thank Matko for his help and support.
Pauline & Steve" May 2019
"Everything about the holiday was excellent and the house was perfect. We all had a wonderful time.  As for restaurants the food was quite good everywhere, but the best local restaurant was Tina's.
Ian S" August/Sept 2017
"Hi Helen
We had an amazing holiday thank you. One of the best family holiday we've had. Both villas were fantastic. 
It was very hot for our first week so Palm Tree Villa was perfect for just relaxing and dipping in and out of the sea to stay cool. The trips which Blaz organised were both excellent. We loved the waterfalls at Krka and were very glad we had made an early start to avoid the worst of the crowds and the heat. The boat trip to Blue Lagoon was great fun and we actually got picked up from the jetty in front of the villa!
Matko really looked after us and was available whenever needed.
Thanks for all you help. I am already recommending you to friends.
Anne" August 2017
"It was an absolutely brilliant week at Palm Tree Villa thanks. The house and all the facilities were excellent and Matco couldn't have been more helpful; even cooking us a bbq one night. The boat trip on the last day was a great finale to a very relaxed and enjoyable week.
I will definitely put some positive comments on Trip Adviser and look forward to using Croatia Gems very soon.
Regards,
Carol"  July 2017
"Hi, thank you we had a really super time.  Loved Croatia, the villa and we would love to return. Our host was super, and made good suggestions for things to do and try.
No complaints whatsoever!
Best wishes
Penny" May 2017
"Dear Helen,
Have been intending to write to say what a fabulous time we had at Palm Tree Villa. The whole family had a great time, truly a holiday to remember.
Everyone was very helpful, and all transfers went smoothly. I'm sure you know about Hotel Tina, right on the doorstep of the villa, at which we had two great evenings.
All in all, we'd like to find another excuse for a big family holiday in Croatia!
Best wishes, Helen W" June 2017
"Hi
We had a great holiday.
Absolutely love the Villa. Been there twice now.
Loved Villa Tina and several restaurants in Trogir.
My eldest son proposed to his girlfriend whilst at the Villa.
The pics look gorgeous with that incredible view.
A friend of my sons who saw the pics has asked how he can book.
I have forwarded Denise's contact.
Hope to go back some time
Regards, Sally S" June 2017
"From my first phone call, to our wonderful stay at Palm Tree Villa, the service from Croatia Gems was superb.
Nothing is too much trouble for Denise. She has tremendous knowledge of Croatia and the villas and her advice is invaluable.
Palm Tree Villa is incredible and its owner Matko looks after the guests extremely well.  We loved it so much that when we got back we booked again for next year.  Cannot recommend highly enough.
Regards, Sally S" 2016
"Hi Helen,
We all really loved the villa and the area around Trogir itself.
The villa owner was really lovely, very helpful and pleasant and the villa was just perfect. One of our group has already said that he will be trying to book it again next year, and I have given him your contact information accordingly.
Thanks and kind regards,
Lynn" 2016
"We really loved the holiday, the villa was superb and the location amazing, I swam in the sea before breakfast every day! We are definitely keen to return to Croatia next year and hope that you can advise us again.
Best Wishes Alison G July 2015
"We found the villa on the internet with a little help from Denise, I had explained what we needed and the make up of our very strange group. (who have been holidaying together for 15 years or so!). Croatian Gems were excellent at responding to our numerous calls and emails for clarification and things to do. The villa was fabulous, even in May we had excellent weather and were able to take advantage of the whole area, Matko was always on had to look after our needs and we had a brilliant time on the days boat, swimming off the boat and eating fresh fish. The ferry and buses suited us fine with only the occasional need for a taxi or boat lift! Swimming straight from the villa was amazing, just knowing you could run back in for a cold drink or warm towel if cooler. The sunsets were amazing too! Trogir and Split are both wonderful places to visit, in fact we'd love to be there again now! Is the villa available in mid September or will the weather have changed do you think by then? We have elderly folk who would love it too! All the best" Natalie F
"Hi Denise, Just a note, to thank-you, for all your assistance in arranging our holiday at Palm Tree Villa. We had such a wonderful time. The villa really ticked all the boxes for us. Everything went smoothly & we all loved it- one of the best family holidays we've had! Thanks again,Rachel N" 3/8/2014
Prices Per Week
All prices are in Euros (€) per villa/ apt/ room. Prices shown in other currencies are indicative and an estimate only.
Most villas and apartments are booked by the week – please ask about booking less than 7 nights.
Where short stays are possible, there is a 30% supplement for stays of 3 nights or less
Please note: Some prices may still be in the process of being confirmed – please confirm price on booking.