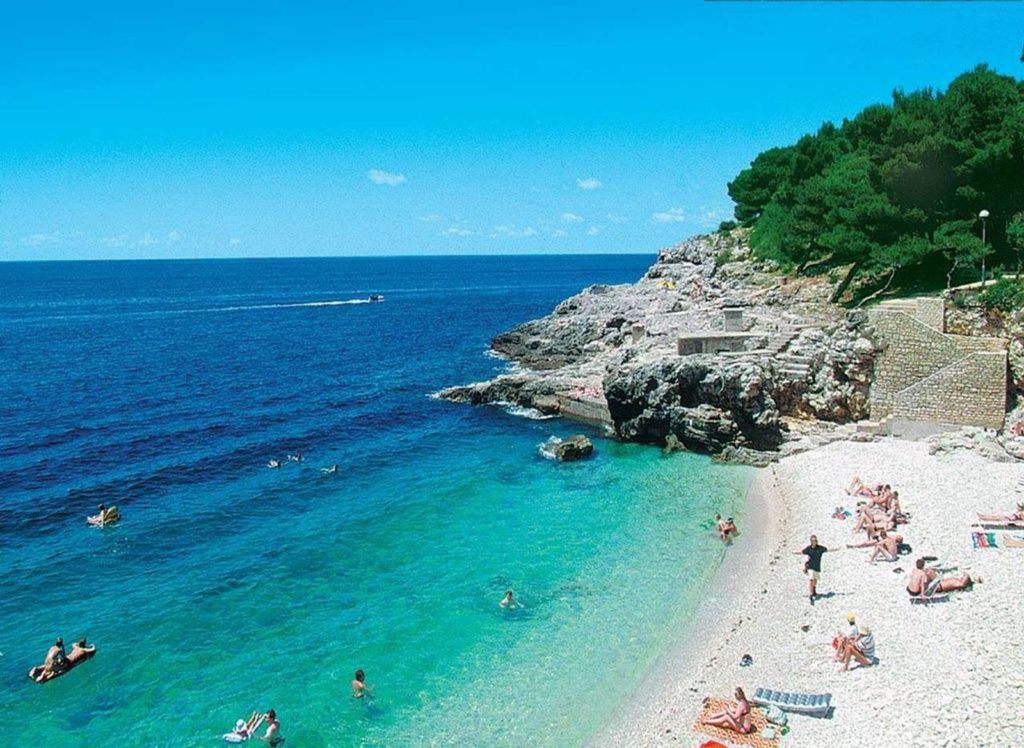 Beautiful Blue Flag Beaches – Pula Beaches
Most of the beaches in the Pula area are beautiful blue flag beaches well maintained and easily accessible to families and disabled, and most have free parking.
Inside Pula Bay itself , there are no beaches for swimming, because it's so busy in the port with local commerce use and sea traffic. Most of the beaches are rocky and gravel with a few sand beaches. Entrance is free.
STINJAN BEACH
Štinjan Cove is located 700 meters from the center of Štinjan, and is characterised by its natural beauty, clean sea, thick pine woods and amazing sunsets.
The main beach is popular as it is very gentle shelving into the sea and pets are also allowed on the beach. There is a beach volleyball court, jet ski hire, aqua park and parasailing. There are many beach bars along the coast that are open until the early hours.
PUNTA KAMENJAK (PREMANTURA)
Warm clear water with good snorkelling – good for people who want a more peaceful location.
AMBRELA BEACH
Ambrela Beach is on of the beautiful Blue Flag Beaches –  It is a lovely little pebble beach near the Hotel Briony – there is a restaurant and  the Lounge Bar Ambrela after which the beach was named. You can rent sunbeds, parasols and pedal boats on the beach.
In the cove there is a safety net, and Lifeguard. There are also public showers, toilet and changing rooms. Entrance is free along with free parking near the beach.
HAWAII BEACH
Located in Principina Cove at Verudela Peninsula in Pula. The central part of the beach is pebble with rocky boulders, whereas the sides areas are rocky and medium height, suitable for water jumps. Entrance is very shallow so suitable for families with children.
Hawaii Beach is one of the most popular beaches in Pula, especially with teenagers.
VALKANE BEACH
This is the most well known beach in Pula, located in Zelenika Cove in the western part of the town. Part of the beach is rocky and pebbly but mostly it is concrete. One part is adapted for the disabled  with special ramps for entering the sea.
There are two bars on the beach: Valkane bar and Šumi more, At Valkane there is a playground for bocce and volleyball. Valkane is one of the  beautiful Blue Flag beaches  and has a lifeguard. Near the beach there is a bus stop with direct link to the city.
SANDY COVE – Pješčana Uvala Beach
Pješčana Uvala Beach is one of the few sand beaches in the Pula area. Most of the cove is rocky, but its central part is a sandy, with shallow clear water. You can rent sunbeds and parasols on the beach which has a water playground
for the kids as well.
Near the beach there are two beach bars and a few restaurants. Lifeguard service daily in high season.
VALBANDON BEACH
Valbandon has a beautiful pebble beach with gentle entrance into sea which makes it suitable for families with younger children and older people. Parts of the beach are concrete. Near the beach there are many beach bars, restaurants, sports fields and water sports hire.
Medulin 
Medulin deserves a mention also as its just a short drive from Pula and very popular with families – the main beach is sandy and backed by grass – plenty of fun for the kids with playgrounds and even a fair that starts up each night around 6pm .
Just outside is a popular adrenelin park!
Photo ©:
Pula Istria – Pula Tourist Board
Brijuni_07007-IgorZirojevic
Pula Istria – Pula Tourist Board 1
Bike_05030-IgorZirojevic