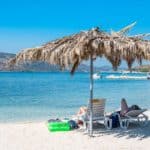 Seget Donji
Seget Donji is a seafront village on the Split Riviera just 2m from the UNESCO World Heritage Site of Trogir, a pretty, medieval old town with beautiful waterfront.
Situated with the main road on one side and the sea front and promenade on the other, the village, it makes a great base to explore the area. There is a bus stop on the main road and a water taxi line from the beach (30m) so you could survive  easily without a car here.
Leisure
Seget Donji has numerous restaurants and konoba's offering a wide range of different dishes. One of the best locally is Frankies  – not the cheapest but the fish is quality the wine perfection and the service always spot on – also it's practically on the beach, so a very romantic spot!  But you can pick and chose from burger bars to BBQ/Grills and if that's not enough take the water taxi into Trogir or walk in along the new promenade.
Seget Donji is an excellent starting point for hikers and bikers not only are there routes into Trogir and across to Ciovo but head in the other direction to lovely Primošten. 
Seget Donji is a very suitable destination for families. There are plenty of beautiful pebble beaches with crystal clear sea,  Along the beach is a lovely   promenade leading you towards the end of the bay and the Medena complex , where there are numerous facilities for children and water sports. Also within the hotel there are tennis courts, jogging track and other sports facilities that can be booked by anyone.
There is also a sparkling new marina !The Marina Baotic which has a really nice restaurant too – called the Yachtclub.  Marina Baotić has a total of 400 moorings for boats with a length of 6 to 60 meters arranged along 11 jetties. A few are reserved for yachts with large drafts (max. 6 meters)
Near Seget Donji There are several churches; church of St. Danjela from the early Middle Ages, and the church Gospe od Ružarja which was built in 1758.
The village has a small shop with a good selection of basics. Fresh fruits and vegetables you can buy at Trogir's fruit market which is so colourful – there is a good butchers here also at the back of the market and a fish market across the road
Regular boat line goes every 30 minutes from Seget Vranjica to Trogir and back.. Get in the boat in front of Camp Belvedere and get off in Trogir on the waterfront. Bus lines are also frequent.