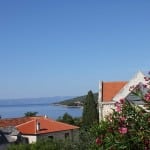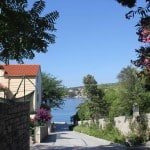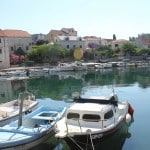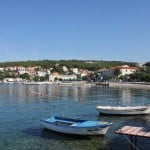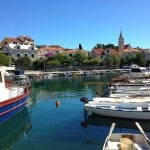 Sumartin, Brac is a pretty sea edge town on the Island of Brac with quintessential little harbour and bobbing boats plus beautiful beach. Laze around in one of the cafe bars or have lunch in one of the sea edge restaurants and watch the world go by on sun bathe on the beach and just venture off for refreshment! Sumartin Brac has a handful of restaurants which are very nice and a shop, post office, bike and boat hire. It also has a very useful ferry service to the mainland town of Makarska – small boats make the crossing a few times a day and a trip to the Makarska Riviera can make a very pleasant day trip. Sumartin itself has some lovely coastline. It has plenty of coves and beaches to explore – try around the headland from the town or towards Puntinak directly across from the town beach – the beach bar there has stunning views of Sumartin and the mountains behind at Makarska.
If you are looking for activities in Sumartin, Brac, you are in luck! You can rent a jet ski, there's water skiing, banana rides, and one of the beaches in Sumartin has an inflatable playground just off the beach for children. You can hire kayaks, sub boards, rent bicycles and take an e-bike tour on this side of island. You can also head over to Bol. There are private boat trips to go on (to Hvar or to the hard to reach coves on Brac for example), or go to the famous Zlatni Rat beach at Bol where you can windsurf…
Sumartin is a pretty laid back place – its chief occupations are wine growing, olive growing, fishing and tourism so it's a pleasant place to be! Sumartin was founded by refugees from Makarska originally who were fleeing from the Turkish Empire. There is a Franciscan monastery, for those who like to sightsee, which was built in 1747 and which has archives and a museum containing valuable jewellery, Venetian Baroque paintings, portolans (multi-coloured navigation charts drawn by hand),  and an ethnographic collection etc.
Sumartin is an easy place to relax for a week. It has plenty of beaches and some nice restaurants and it is also easy to get out and about to explore. The town of Bol is close by as well as several hidden coves that can be reached by boat. Vidova Gora, Brac's highest peak is also a short distance away and the views from the top are spectacular!