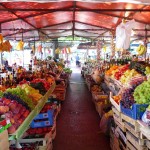 The Best Things to do in Split on a Croatia Holiday
By Saron Lease, 23rd February 2022
We at Croatia Gems think that Split often gets overlooked for big-hitting Dubrovnik.  Head here and find an ancient walled town of polished marble overlooking the glittery Adriatic – you will soon find the best things to do in Split on your Split villa holiday.
Second only in size to Zagreb, the city is an alluring place: City life still focuses on the remarkable and extensive Roman remains of Diocletian's Palace -a UNESCO World Heritage Site.
The walled complex was built as an imperial palace and military fortress for the emperor at the turn of the fourth century AD. You can spend a day following ancient footsteps – starting from the Peristil (the colonnaded open courtyard) and cathedral, and wander through the ancient maze of narrow streets and little squares.
Shops, restaurants, churches, houses: everyday life is built into the very fabric of the ancient walls. Perhaps unsurprisingly, they caught the eye of the makers of Game of Thrones, and walking tours of the locations featured in the hit series are easily found.
Split has always been a nautical hub. Its large marina is the casting-off point for island-hopping yachts. Ferries serve the Dalmatian islands and connect Split to Dubrovnik in the south, and there are overnight sailings across to Ancona in Italy.
There are some lovely new family villas up around the coast towards medieval Trogir where you can base your stay. Public transport is great in the area and there are plentiful buses and water taxis to get around, without having to drive everywhere.
So what to do when you have exhausted your thirst for history and retail?
1. Head to the beach – There are many good beaches in and around Split & Trogir,
2. Why not have a day of adventure ? try canyoning or white water rafting on the  Cetina River,  just down the coast from the city in the charming town of Omis  (previously a pirate stronghold).
3. Take a stroll through the hillside pines of Marjan Forest Park, and be rewarded with amazing views of the Adriatic and the city below, followed perhaps with dinner out at one of the numerous Restaurants in the old town before returning to your Croatian holiday villa.
4. Visit the Pazar Green Market where the 'grandmothers' weigh out bags of seasonal fruit and home-grown vegetables. Always a good spot to find some jars of home-produced honey and jams too.
Or rise with the sun and visit the lively Ribarnica fish market – huge stone slabs covered with freshly caught fish, perfect to throw on the BBQ back at your villa in Croatia.
5. Visit Froggyland!  It's got to be done! A little museum with hundreds of stuffed frogs in meticulously detailed poses from human life – playing tennis, at the dentist, being drunk – it's certainly different!
6. From your Split villa holiday property, take the bus or water taxi to visit the tiny city of Trogir which is another UNESCO World Heritage Site. It is just 35 minutes up the coast from Split, set on an island, within medieval walls, its winding car-free streets are home to some interesting boutiques and courtyard cafés.
Also its cathedral has some of the finest carvings in Croatia. And don't miss the daily fruit market, which is an explosion of colour. When it get's too hot,  head into the centre of the old town and there is a little square there with some fine ice cream cafes – very popular with families.
7. Have a Bond moment!  Take a speed boat ride out to Hvar and the Pakleni islands – take your swim suit and a change of clothes, its a breath-taking day out.
8. A must do is a day out from your Split villa holiday home is to the wonderful Krka Waterfalls. Take your camera as it's stunning. Go early to beat the crowds and stop off at the lower lake for a swim,  on your way back to your Croatia villa stop off at lovely Sibenik for some locally made ice cream or splash out at Pelegrini, the renowned Michelin star restaurant.
9. Go south of the city to lovely Podstrana – Le Meridien Lav has loads of water sports to try as well as a private beach, restaurants and spa facilities. If you have a late flight and an early check out from your Croatia Family Villa it might be worth booking in for the day!
10. Hop across to lovely Brac island, while your there check out some of the lovely bays and stunning Croatian family villas. It's just a 50 minute crossing from Split and there are lots of ferries during the day.
Brac has some lovely little bays to explore and some excellent restaurants.
Photo © Hotel Le Meridien, Podstrana