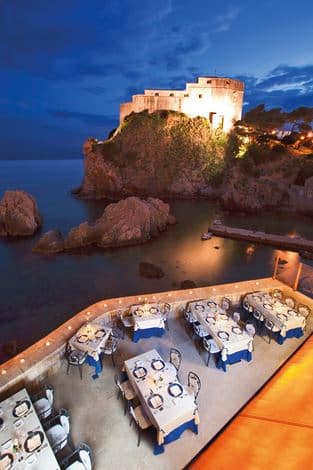 The Most Romantic and Secluded Places for Dinner in Dubrovnik
by Saron Lease of Croatia Gems, 15th October 2018,
As the winter draws in, there aren't many places better placed for a cosy weekend away than Dubrovnik – just two and a half hours away from the UK – lovely lamp lit streets and beautiful views out to the islands at sunset- it has to be top of your list so where are the most romantic and secluded places to while away the hours with the love of your life?
Above 5 : Situated on a rooftop terrace in the heart of the city, renovated in 2013 the original architecture was untouched. Amazing food by the team of young exciting chefs , great atmosphere and unbelievable views of the red roofs, the bustling streets below and across the sea to the islands
Takenoko Restauran : Takenoko Dubrovnik has settled in front of the impressive City Walls. A contemporary relaxed interior with a terrace overlooking the city harbour & the island of Lokrum makes it an exceptional place to be. First class sushi and amazing cocktails
Restaurant Dubrovnik : High end and  restaurant for those in the know, this is a gorgeous place to spend an evening with delicious food and ambiance. Situated on the first floor terrace of a sumptuous old town villa, tucked away up a side street, the restaurant has an amazing menu and wines to match definitely one not to miss
Restaurant 360 :  Restaurant 360 is located in the old town with impressive views of the port The Terrace stretching over the medieval walls , amazing array of dishes which changes constantly, Upscale and sophisticated but with a casual vibe – booking essential.
Restaurant Nautika : Nautika Restaurant lies on the very edge of the sea at Pile, alongside the western entrance to Dubrovnik's Old Town and from its unique terraces, diners can enjoy a truly 'one of a kind' view of the Adriatic and the fortresses of Lovrijenac and Bokar. Fresh locally sourced ingredients prepared with love , what's not to like .
More Information