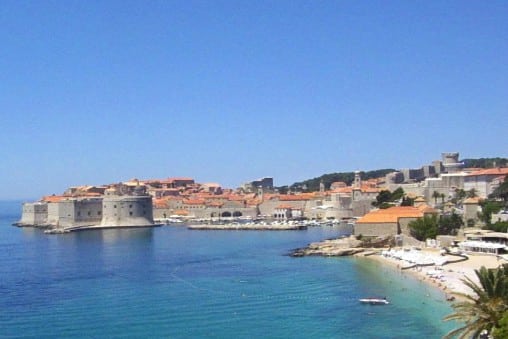 Top 5 Best Beach Locations for Villa Holidays to Croatia
by Saron Lease 15th February 2023
If you want coast, sea and beaches, villa holidays to Croatia are likely high on your list
With miles of pristine coast and idyllic islands, villa holidays to Croatia consistently rank high for those seeking sun & sea villa holidays. A Croatia beach villa is one thing but what if you want to Croatia villas by the sea in an area with great beaches? Which areas can you base yourself in that have beautiful Croatian beaches to explore? Croatia Gems Villas  is on hand with some recommendations for villa rentals on the Dalmatian Coast…
Types of Beaches for Villa Holidays to Croatia
Croatia villas to rent are near a multitude of different types of beaches – wow factor beaches, pretty little beaches, off the beaten track beaches, family beaches and activity beaches.
The Best Croatia Villa Beach Locations
Dubrovnik Villa Beaches
Famous Dubrovnik is known as the Pearl of the Adriatic and is, of course, a top spot for villa holidays to Croatia. Its iconic Banje Beach is right next to UNESCO Dubrovnik Old Town itself and certainly has the wow-factor. But head to Sveti Jakov Beach a little further around the coast in Mlini direction. If you can navigate the steps, you're in for a treat as it has a stunning location. Indeed, it is by the ex-Yugloslav top exclusive Belvedere Hotel so one of the best locations on the Dubrovnik coast. There are beautiful views of Dubrovnik Old Town from here too.
Outside of Dubrovnik, head to Mlini Bay which is another top spot. Under Restaurant Puntizela, this picturesque beach is shaded by pine trees and is picture perfect. A haven for Dubrovnik villas, Mlini is a great place to base yourself on a Croatian villa holiday. Just up the steps is a chilled out restaurant for snacks or longer lasting meals, rest room facilities and a great children's play park. There's also water sports, kayaks, dive club and jet ski hire very near by if you have restless family members!
A bit more off the beaten track and if you have a car in the Dubrovnik area, don't miss pretty Brsecine Beach. The calm, shallow turquoise bays of Slano are perfect for little children.
And make sure you head to Lopud Island just off the coast of Dubrovnik. Sunj Beach is a sandy beach that attracts the yachting fraternity for it's beauty. If you are 'sans boat', you can hire a skipper or hop on a local ferry as the crossing is only short. There are not cars on the island but it's a heavenly escape for the day to explore and find the beach! There are a wide variety of lovely beaches to head for on a Dubrovnik villa holiday, if you know where to go.
Brac Island
Brac Island has heavenly beaches dotted all around the island and there are some lovely villa rentals nearby many of the beaches. Take the coast south of Supetar for example. There are lovely beaches in the Postira area like Lovrecini Beach. Everyone knows about the famous Zlatni Rat beach (Golden Horn) but a wander further down brings you to the idyllic Monestary beaches. There are two beaches here and they are so pretty you won't want to leave. Indeed, with a fisherman's restaurant mere steps away and a beach bar, it is hard to muster up the energy.
Korcula Island
Korcula Island is the place for little fishing coves and they scallop all around the island. One particularly stunning location is Prizba and the beaches there  – Villa Milfora and Villa Spring are here and super Croatia beach villas. Another location to head to is Lumbarda with its rare sandy beaches. It's also home to famous Grk White Wine that is made by a local family vineyard but that's another story! Just next to Korcula Old Town, Lumbarda is a great base for Croatia villas. Check out Villa Lumbarda for example.  People often ask is Croatia good for family holidays? Well this place is perfect.
Peljesac Peninsula
The Peljesac Peninsula, just a 5 minute boat hop away, is also home to some of the prettiest beaches in Croatia. Prapratno Beach, Zulijana Beach and Mokalo Beach to name but three. Trpanj also has a beautiful beach, near the tip of the Peninsula. And don't forget Loviste Bay and it's little sandy cove. Check out beachside Villa Coral! Rent Croatia villas with private pool in the Peljesac area and you'll be spoiled for choice.
Split Riviera
If you want to be a the centre of things but also be able to retreat to more tranquil shores, Slatine Bay and Vinisce Bay are your friends. So close to Trogir Old Town, Slatine Bay has some lovely beaches and is a nice convivial part of the island. It has beach bars and some lovely villas  check out beach Villa Slatine, practically on the beach and bistro under the pine trees. Or Palm Tree Villa on the beach, a high end but good value Split villa on the beach with lovely Restaurant Tine close by. Because Slatine is the last village at the end of Ciovo, it also has some beautiful wilder beaches to explore.
More Information