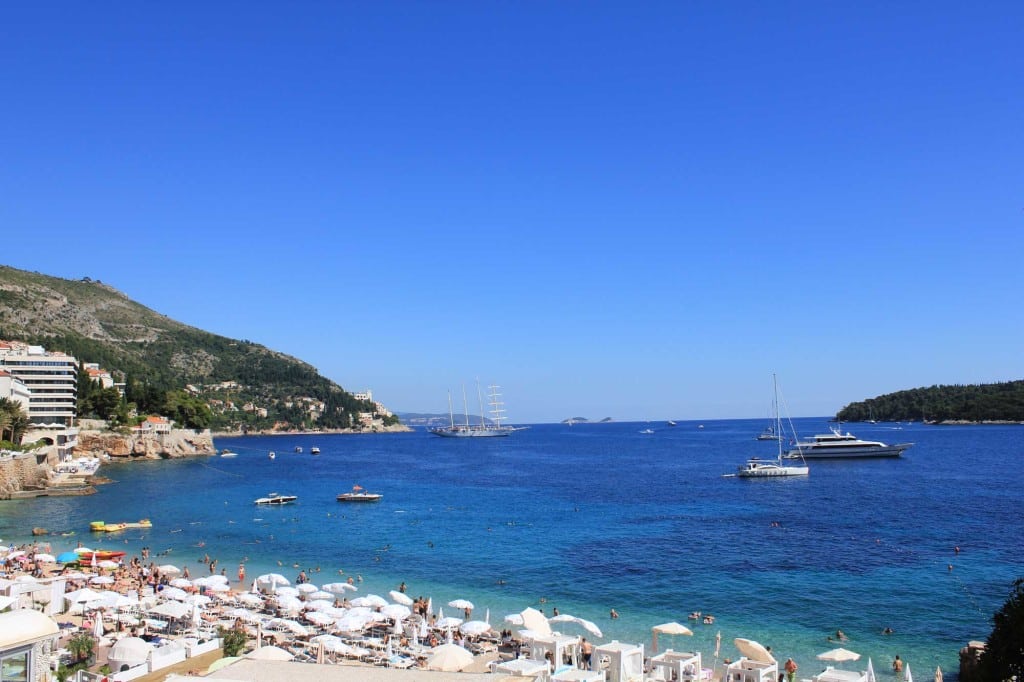 Villas Croatia with Pool – Check out the Best Beach Hops from Dubrovnik
by Saron Lease 28th April 2023
We often get asked where would we go for the best beaches near Dubrovnik? Good question! We do know a few good spots!
If you are coming for a holiday in Croatia the chances are you want to make the most of the miles of beautiful Croatian coastline and the best beaches in Croatia! We often get asked where would we go for the best beaches near Dubrovnik? Good question! We do know a few good spots!
Dubrovnik Beaches
Banja Beach
If you're staying at villas Croatia with pool in the Dubrovnik area you will likely be near the Old Town of Dubrovnik. So Banja Beach is really the first beach to visit simply because its location is stunning, and you can't not go there. With East West Beach bar right there in the beach and a superb vibe of the old town, you're all set for a sensational beach visit.
Sveti Jakov beach
Nearby Sveti Jakov beach also has a stunning view of Dubrovnik old town and an even more dramatic location. Not for the faint hearted, it does have rather a lot of steps but it's very lovely. The pretty church at the top is delightful and the beach at the bottom is to behold. The views are stunning and the beach bar for snacks makes it hard to leave!

Mlini Beach
Mlini Bay is home to many villas, Croatia with pool. It's a pretty sweeping bay just around the coast from Dubrovnik and has one of our favourite beaches. It's a beautiful shallow incline beach set under the Pine trees. Check out Puntižela Restaurant just above the beach which is a delightful place for lunch with a fantastic open air terrace.

Further up the Coast…
For more off the beaten track beaches you are in luck as there are some stunning beaches and coastal locations within reach from Dubrovnik…
Prapratno Beach – Peljesac Peninsula
As the Dubrovnik Riviera ends, so the Peljesac Peninsula begins. The wild peninsula has been tamed slightly with the addition of the new Peljesac bridge that joins it further up to the mainland. Peljesac is known for its beauty and it is also wine country. Peljesac villas and apartments are becoming more sought after. With its steep south facing hillsides, it's perfect for producing award winning grapes. At the start of the peninsula is the beautiful bay of Prapratno. A real hidden beach and truly beautiful, it doesn't have much shade so take an umbrella! There is a little café but is one of our favourites to stop off at for a swim on the way to somewhere just for the beauty of it.
Saplunara Bay on Mljet Island
Hop on the ferry from Prapratno and spend the day on the natural wonder of Mljet Island. One half is a national park as the flora and fauna are so protected but the whole island is beautiful with many species of plants and flowers blooming wild. Head for Saplunara Bay, a wild, sweeping bay with a superb beach which was actually used to film Croatia's version of "Survivor".
Mokalo Bay on Peljesac Peninsula
If you stay on Peljesac then head to hidden Mokalo Beach. When most people carry on to Orebic, Mokalo is often not noticed and people drive right by. This is a good thing 😊.
More Information