Sleeps 6 | 3 Bedrooms | 1 Bathroom | On the Sea | Hot Tub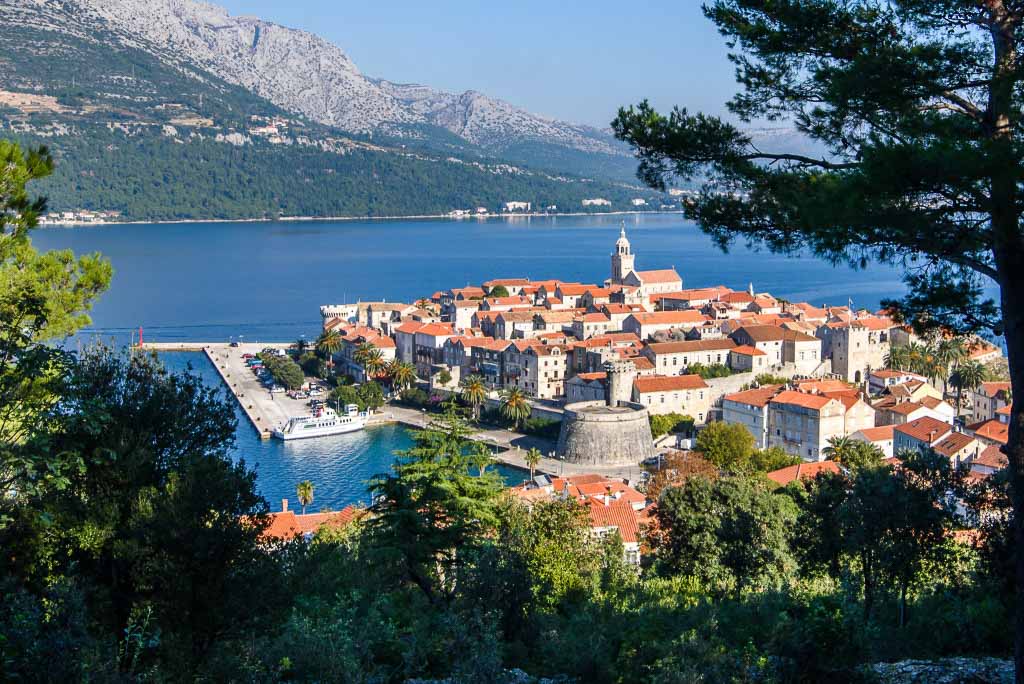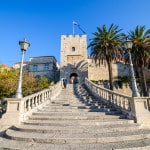 "We had a fantastic holiday – The location of the villa was perfect -All in all everyone agreed that it was a brilliant two weeks"
VILLA KORCULA – KORCULA TOWN, KORCULA ISLAND
Villa Korcula is in a terrific spot, just around the bay from the stunning Old Town of Korcula, tucked away in a little sheltered inlet. Just 5 metres from the sea edge and surrounded by mature garden, this is a very relaxing and beautiful place to be.
Description
From the veranda, you can watch the little boats in the water, or relax on the beach in front of the house. There is a shallow incline into the sea so children will be able to enter the sea or paddle easily in the calm water.
The villa is semi-detached and the closest neighbour on the other side is an apartment. It is one of several houses in the bay and has 3 bedrooms and sleeps 6 or 7 people in total. Its balconies and sunny garden space makes it a perfect summer holiday house and the garden for sitting by the sea with a glass of wine of an evening!
If you are feeling nautical, the villa has it's own little mooring and from Korcula town you can also easily get to the little islands just off the town's coast which are idyllic and have calm clear water surrounding them perfect for snorkeling and swimming.
The added bonus of this villa is that it is only about a mile from the Old Town of Korcula which is a beautiful medieval town. It is full of atmosphere and has many little shops and café/bars/restaurants, including a cocktail bar on one of the town's turrets!
If you have a car then you can explore the islands beautiful and lush villages, or why not take a trip to the Island of Mljet (a national park) which lies between Korcula Island and Dubrovnik. It makes for a wonderful day trip and is a sight to see indeed. The Peljesac Peninsula is also just a short hop on the little ferry and also has sweet little villages to explore – great if you want to try your hand at a spot of wind or kite surfing!
Accommodation
Sleeps: 6
Number of bedrooms: 2 double + 1 twin bedrooms
Features: right on the sea! Hot tub area in garden
Balconies: yes
Dining Room: yes, lounge/dining area
Number of Bathrooms: 2 (1 bathroom plus 1 wc)
Air conditioning: one air con unit in the hallway for the bedrooms upstairs, and a further 2 units downstairs
Parking: yes
Mooring: Possibility to moor a boat 2-20 meters length (water and electricity supply) – there may be an extra charge – please check
Mobility Rating: 2
Car Recommended: optional (we recommend you hire a car and drive from Dubrovnik airport. It takes around 2 hours to get to the town of Orebic, then approximately another 30 minutes once you get on the ferry to Korcula, to the villa – depending on ferry times)
Air Conditioning & Internet Connection: yes
Local Amenities
Beach: 5 metres from villa! Villa is on the sea
Shop: one smaller shop on the road half way to the old town of Korcula,       within walking distance, and in Korcula Town
Restaurants and bars: two konobas (domestic restaurants) within walking distance, and in Korcula Town
Bank: in Korcula Town
Boat Trips: from Korcula Town
Pharmacy: in Korcula Town
Internet café: in Korcula Town
Snorkeling: trips from Korcula Town
Scuba Diving: book trips in Korcula Town
Car/Passenger ferry: car or passenger ferry between Korcula and Orebic, also connections with other islands
Airport: approximately 2 and a half hours (Dubrovnik)
Map
Reviews
"Hi Helen,
We had a great time! The villa was great as we moored a boat there which was lovely. The villa was pretty simple and basic – thats not a criticism but its not luxurious if that is what people are after, it was perfect for our needs. It is in a lovely quiet little inlet but just 10-15 mins easy walk to the town which was fantastic and we could get to loads of places by boat. We especially loved a little restaurant we moored up outside in Lumbarda called Il Moore I think. Damir the villa owner was fantastic – could not have been more helpful.
Best wishes
Julie" July 2017
"We had a fantastic holiday! The location of the villa was perfect…All in all everyone agreed that it was a brilliant two weeks. Thank you for all your help. We are thinking of going to Hvar for a week at the end of May. If you have anything please could you let me know." Irene 2010
Prices
Prices Per Week
All prices are in Euros (€) per villa/ apt/ room. Prices shown in other currencies are indicative and an estimate only.
Please enquire for Prices
Most villas and apartments are booked by the week – please ask about booking less than 7 nights.
Where short stays are possible, there is a 30% supplement for stays of 3 nights or less
Please note: Some prices may still be in the process of being confirmed – please confirm price on booking.
Call for a Chat…
We spend a lot if time visiting the areas and villas so we know them all well. Feel free to give us a call on

UK +44 (0) 117 409 0850 USA +1 (0) 914 826 8530

and we'll be happy to help at whatever stage of planning your holiday you are at.