Sleeps 8 | 4 Double Bedrooms | 2 Bathrooms | Pool | Badminton Court | Wine cellar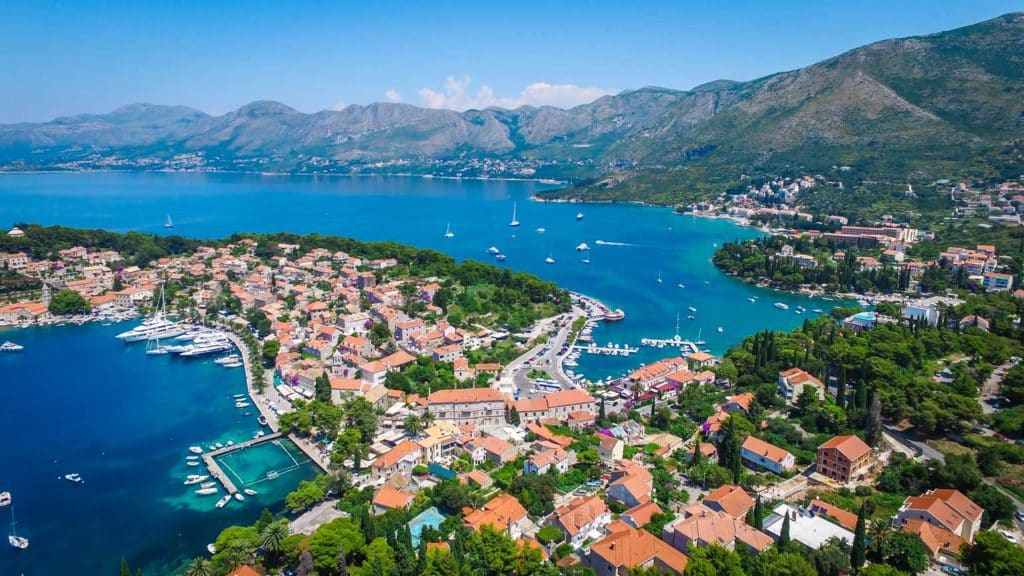 This villa certainly has the wow factor – high spec with everything you could need on a holiday with lots to explore in the local & general area
VILLA LARUL – KONAVLE, DUBROVNIK RIVIERA
SPECIAL OFFERS: Discount on all remaining 2020 weeks, PLUS 10% discount on 2021 bookings made by 31st December 2020 
Villa Larul is peaceful Croatia villa in Dubrovnik – it is an historic renovated house, with beautiful garden,  pool, games room and badminton court for family fun – the ideal accommodation for those seeking peace, privacy and a relaxing atmosphere but with plenty to do, see and explore nearby should the whim take you.
This peaceful Croatia villa in Dubrovnik is in the Konavle area known for its gastronomy, fresh produce and hidden beaches.  Villa Larul is a late 16th century, private family house, completely renovated inside, but left in its authentic original form outside. It certainly has the wow factor with lots of attractive wood and stone features.
If you are after space, at 2,000 m2, this property has it! There is a good sized outdoor pool with Jacuzzi, a wonderful traditional Croatian "glorijet" (wooden and stone pergola) for lazy lunches and shade from the hot sun, and a badminton court – this peaceful Croatia villa in Dubrovnik is surrounded by lush and beautiful Mediterranean plants and flowers.
And of course, the region is known for its quality wines, olives, olive oil, and wide variety of local produce so the gastronomic side of Konavle is not to be missed! Visit local taverns and wine cellars and partake in some wine tasting, and try some local traditional delicacies – this region has a mouth-watering selection of some of the best traditional eateries on the Dubrovnik Riviera.
In the area are wonderful, quintessential fishing villages and pretty coves, beautiful views of the sea, walks through ancient vineyards and olive groves and activities such as horse riding, folk events, sightseeing etc are available in the surrounding country side.
If you want to get out and explore further afield, the villa is located 40 km from the city of Dubrovnik, and only 3 km away from the Montenegro border. The nearest beach is located on the peninsula of Prevlaka, 5 km away from the house but you also have pretty Molunat and beautiful Cavtat Bay is not far away which are certainly worth a visit. Also, this peaceful Croatia villa in Dubrovnik is an easy transfer from the airport lying just 20 km to the south.
Sleeps: 8 people
Number of bedrooms: 4 double bedrooms
Reception rooms: 2
Features: Games/activity room, floodlit badminton court & pool
Traditional Croatian "glorijet" (wooden and stone pergola)
Luxury pool area: pool (9.5 x 4.5 m, depth 1.15m to 1.75m) and if you fancy some exercise, a pump for swimming against the current!  Jacuzzi for 8 people.  LED lighting in the pool controlled by remote control. Pool terrace has sun loungers and umbrellas and power points for the Stereo sound system which also streams internet radio. It also has outdoor shower and separate bathroom with shower for convenience
Games & Activity Room: Converted from Restored Olive Mill: has a room with a pool table and dart board, and an old tavern converted from the preserved and restored olive mill (1885). Inside there is a table for 16 people, barbecue, bar with stove, fridge-freezer, oven, dishwasher, ice maker, a TV set and Music system which plays from CD, USB or by connecting a cell phone or iPod. In front of the mill is a WC.
Kitchen/Dining Room:  yes
Number of Bathrooms: 2 (one with a massage shower and the other with Jacuzzi, TV and radio)
Terraces: Glorijet terrace  (a traditional covered terrace) plus the Covered Terrace with Large TV Screen & Dining Table and a 4.8 meter long table for 20 people made from 120 -year-old northern Croatian Slavonian oak, huge barbecue and a bread oven. The area also has power points, and has a projector and screen ideal for catching up with sports and similar events in the pleasant summer nights.
Air Conditioning/Heating: fully air-conditioned, and under-floor heating in the bathrooms, the kitchen, dining room and wine cellar
Technology: Every room in the house has its own LED TV with USB port, and a large living room has a LED TV with satellite TV, Apple TV, DVD, CD and USB players. There is also a fax and copy machine, telephone and video surveillance. Wireless Internet is throughout the house and estate.
Garden: typical for the region – orange, lemon , quince , pear , cherry , Nespoli , olives , figs , almonds , wild pomegranate , cypress , oak surround the villa as well as a host of aromatic plants and herbs
Beach/Sea: 10km to the south is a pebble beach at Molunat and gorgeous Cavtat is also nearby – great restaurants and cafe bars not to mention the lovely swimming spots! Mlini, which has a gorgeous pebble beach, is around 25 minutes drive
Shops, Restaurants and Bars: The village of Gruda has several local shops and bars and good restaurants serving traditional food. Cavtat some 20km north, has a good selection of restaurants and shops
Bank, Pharmacy and Internet cafe: In Cavtat (15 min drive) or Dubrovnik (30 min drive)
Car/Passenger Ferry: An easy drive is Dubrovnik, and you can enjoy its history and entertainment; a number of ferries depart from there to nearby islands as well as the National park on the Island of Mljet
Airport: 15 min drive from Dubrovnik airport
Horse Riding and Mountain Biking nearby
Prices Per Week
All prices are in £'s (GBP) per villa/ apt/ room, per week, unless otherwise stated:
Most villas and apartments are booked by the week – please ask about booking less than 7 nights.
Where short stays are possible, there is a 30% supplement for stays of 3 nights or less
Please note: Some prices may still be in the process of being confirmed – please confirm price on booking.