Sleeps 8 | 5 Bedrooms | 3 Bathrooms | Pool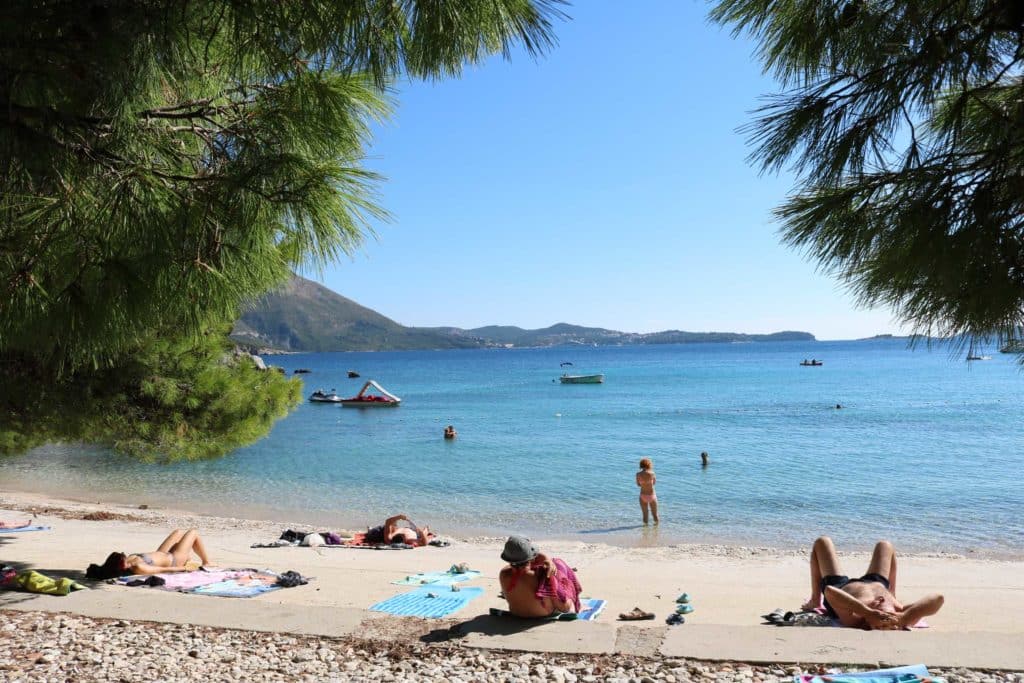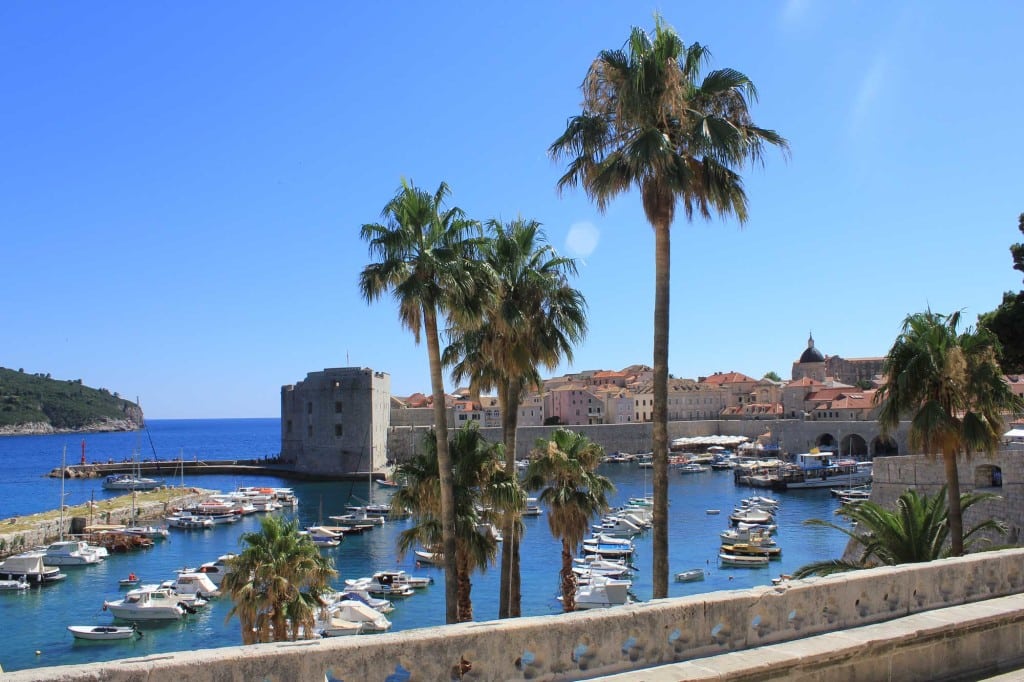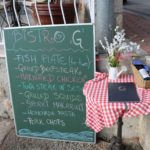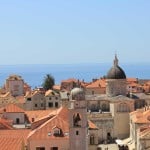 "What a stunning, memorable week we have had at Villa Mlini… Could not have been better"
VILLA MLINI – MLINI BAY, DUBROVNIK RIVIERA
Villa Mlini is a beautifully presented villa situated above the village and pretty bay of Mlini, it is a perfect family villa with views to the sea so you get the most wonderful sunsets and just 10 minutes drive from the spectacular medieval Town of Dubrovnik – it is a spacious and airy villa, and one of our most popular.
This perfect family villa with views across the bay to the islands, us very popular with our guests, quite a few have been back several times over the years. It's one where you can really manage without a car, with the bus stop to Dubrovnik, Cavtat and a large supermarket just down the road, or the water taxi from the harbour, you can get about quite cheaply and easily.
The interior of the house certainly has the wow factor – with all mod cons, and is most comfortable after a day on the beach (or a night on the tiles!). With its "Entertainment Room" (Home Cinema & Office Facilities with Play Station and 3D TV), this is the perfect pad to retire back to…if you fancy a night in, why not make the most of the well stocked wine cabinet…
Two of the bedrooms are on the ground floor allowing the open plan living and dining room a fantastic view out across Mlini to the sea and islands beyond! The villa boasts a stylish and private pool along with 2 large terraces covered with vines to shade you from the sun while dining or relaxing. Pool-side, and leading from the kitchen, there is also a wonderful al-fresco dining area and BBQ area, perfect for those long summer evenings…
It is a about a 5 minute walk into to the historic village and Mlini Bay from the villa (depending on where you are heading in the bay) with its charming little fishing boat harbour and beautiful beaches. Mlini is historically known in the area for its water mills ("Mlini" means "mills") which were powered by the fresh water mountain springs – you can see the streams as you wander around the pretty pathways in the village – very pleasant indeed and plenty to discover. There are lovely little restaurants in Mlini Bay and cafes scattered around the bay and all serve fresh fish and delicious organic, local wine!
Mlini Bay has a long stretch of pebbly beach and beautiful turquoise, calm sea on one side, along with a pretty little harbour, and on the other side there is a beautiful sweeping bay with little coves and pine shaded beaches to discover as you meander along the path – all very relaxing. For more sophistication, head into Dubrovnik Old Town and explore the windy streets – there are plenty of shops and cafes and wonderful architecture to enchant you. Or head out of Dubrovnik altogether and discover its nearby islands by kayak or bike!
From here you can water taxi in to the Old Town of Dubrovnik and back from May to October, and you can also water taxi to Cavtat Bay and Plat Bay, or hop on a boat to explore the lovely local Elafiti Islands off the coast.
General Villa Information
Sleeps: 8 people (5 bedrooms)
Number of Bedrooms: 3 double bedrooms, 2 twin bedrooms (3 of the bedrooms have a sea view), all with air-con
Number of Bathrooms: 3 bathrooms ( all with showers)
Bedroom & Layout:  Ground Floor – 2 double bedrooms (the master bedroom has an en-suite), then there is a twin bedroom and another double bedroom. There is a bathroom under the stairs at the end of the hall. First Floor – 1 twin bedroom and one double bedroom, plus a family bathroom with bath.
Hairdryers: yes, in each bedroom
Features: great views out across the Adriatic, very comfortable interior and pool!
Balconies: one overlooking the sea from the living room, terrace on ground floor (steps down from pool area with seating for 5 people)
Living room: yes, with balcony (sea view) and Fireplace
Dining Room: living/dining room with sea view
Kitchen: yes fully equipped with dishwasher, microwave and washing machine plus wine cabinet and a fridge freezer with ice maker.
Air Conditioning/Heating: Air conditioned and heated in all bedrooms and living area
Satellite TV: yes – LCD TVs in 3 bedrooms and living room + Netflix
Internet : Wifi
Safe: yes
BBQ facilities: yes – a traditional Grill with chimney built into the wall on the terrace between the Kitchen & pool plus bar and sink next to it
Sun loungers: 10
Pool: Private pool with terraces (open May – Sept inclusive – please enquire otherwise)
Provisions: toilet roll, hand soap, kitchen towels, kitchen dishcloths, cleaning cloths, tea towels, kitchen detergent, dishwasher detergent, small and large bath towels, beach towels for use by the pool, hair dryers, ironing board, iron, safe, vacuum cleaner, cleaning brooms, plastic waste sacks.
Entertainment Room (Home Cinema & Office Facilities)
LCD TV Sony 3D in entertainment cinema area ( Netflix)
DVD BlueRay
3D Glasses
Wireless internet access in all villa
Parking/Access
Parking: free street parking below the villa
Mobility Rating: 2 – The villa is on 2 floors with 3 bedrooms on the ground floor and stairs inside of the villa up to the first floor where there is a double and a twin bedroom plus bathroom with bath – it is worth noting that the living room, kitchen and swimming pool are also on the first floor level. From the living room there are 2 steps to the bedrooms and bathroom on the first floor. On the rest of the first floor there are also 2 steps leading from living room to kitchen. Pool is also two steps from Al fresco terrace. Outside, steps lead up to the main front door of the villa. There are steps down to the beach if taking the direct route (about 5 minutes walk with average mobility). Or drive the longer route along the road, turning left and doubling back down the sloping lane into the bay (approx. 1 km) – walk from the top of the lane, or go down into Mlini itself, to the sea edge, where it is flat.
Car Recommended: optional – approx 5 minute walk into the bay, to restaurants, and to the first beach. There is also a bus stop very close to the house and water taxi's into Dubrovnik Old Town from Mlini Bay during the main season
Beach: about 5 minutes walk down to Mlini Bay to the sea edge! There is a main road to cross to get to the path down to the beach but then it's 5 minutes down the steps to the pretty fishing harbour and bay of Mlini. Once down on the sea edge, you can go left to the pretty harbour and village centre, main beach, restaurants, cafe bars & water taxi, or right to meander along the path and explore more beaches.  In high season, parking is usually limited in the bay to keep it lovely and car free, which is great for children and a more relaxing atmosphere!
Shop: a short walk – there are a handful of small shops (kiosks & small Spar type grocery shops) in the upper part of Mlini (please ask for our supermarket guide for others in the area – there are larger Lidl & Getro supermarkets approx. 10 minutes drive away, but there is a closer one on the ground floor of the Mall next to the Sheraton in Srbreno which you can walk to along the sea front in around 15 minutes and then get an Uber back, or just take the bus there and back.
Restaurants and bars: in Mlini Village approx 5 minutes walk
Bank: cashpoint in Mlini (next to the Dive Centre), bank in Dubrovnik
Boat Trips: boat trips to islands and water taxi Dubrovnik old town which usually run May-Oct
Internet café: in the Old Town of Dubrovnik (approx 10 minutes drive)
Airport: 20 minutes (Dubrovnik)
Bus: A new bus service stops at the bottom of the steps on the main road – no. 10 bus goes to Mlini then onto Cavtat in one direction & the Old Town in the other
"Hi Helen,
The holiday/wedding went fantastically well, the villa was excellent and the owners were very helpful….
Tena looked after us exceptionally well in the resort organising our transfers and wedding transport. Big thank you to all of you from the booking process to getting home, I wouldn't hesitate to recommend Croatia Gems – excellent service.
Thanks
Phil" July 2018
"We had a great time thank you. The villa was probably the best villa we have ever stayed in, very clean, spacious and well equipped. Nice touch was the owner had left a large pool towel on each lounger in addition to the white bathroom towels.
5-10 minute walk to the beach.
Ideal location. kids loved water inflatables and scuba diving booked at Mlini was our best dive ever.
We would certainly book a holiday with Croatian Gems again. we were very well looked after and the day of our arrival in the blistering heat this was greatly appreciated. 
Best wishes 
Carol" August 2017
Everything about the listing is 100% correct. The view is outstanding. There is so much room in the house. The outdoor dining was fun and the kitchen is well equipped to make gourmet dinners. 2 Large showers and a big bathtub in the bathrooms should keep everyone happy. The host is handy for questions and usually gets back to you within a few minutes if you have questions. Overall, the best rental we have ever had. With a million dollar view.
Brian E Canada Oct 2019
"Hi Helen,
Quite simply a fantastic holiday in every sense. The UK based team were very helpful throughout as was Ana in Croatia during our stay. The owner of the villa who lived next door also gave us great local info.
The villa was everything we wanted and more. It was the perfect family villa with views to die for .
I will gladly recommend Croatia gems to friends who may wish to arrange a villa holiday in Croatia. 
I hope this is of help to you. Ray" July/August 2017
"Hi Denise, Having just returned from our holiday at the villa in Mlini I thought I would email you to let you know how much my family and myself enjoyed our holiday. The villa was great and the owners, Bozidan and Ana were really friendly and very helpful and made the holiday go very smoothly.
I would like to thank you for all your help and patience with answering my emails and giving so much helpful information. I would have no hesitation in recommending Croatia Gems to family and friends and hope to use your company in the future. Everybody loved Cavtat so we may look at booking a villa there in the future.
Once again thank you and everybody at Croatia Gems. Best wishes, Vic" June 2017
Morning Helen
Apologies it's taken me so long to reply to your message.  We had a wonderful holiday, the villa exceeded our expectations and so did Mlini.  We all were hugely impressed with Dubrovnik, we particularly liked the restaurant Kopun which was one of Ana's recommendations and our teenagers loved the nightclub Revelin.  My three children also enjoyed jet skiing and para gliding on Mlini beach which we found this quite reasonably priced.  Our two favourite local restaurants were the pizza restaurant on the beach and another 5mins walk along the coast road called Marinero.  Marinero was very popular so booking early was essential.
 I would really like to thank all of you at Croatia Gems for all your help, organisation and local information, your attention to detail meant we had a fantastic, stress free holiday.  Also a big thank you to Denise for helping me select Villa Mlini and being so helpful and friendly on the phone.  I will certainly be recommending you to friends and will be in touch when we return to Croatia.
Best wishes, Carey" July 2017
"
"Our second year here and another amazing holiday. Great villa, great place and Dubrovnik is amazing!
We hired a car and travelled to Kotor, Montenegro which is like a smaller Dubrovnik, the route there had the most beautiful views, well worth a visit. We also travelled to Trebinje, Bosnia which had a lovely park and was very cheap.
never did fathom out the timetable. A day trip around the islands was also a memorable experience and gave a different perspective of the area… NB If
"Our recent stay in Croatia was absolutely wonderful. A beautiful country which we will definitely return to. Our daughter was married at Grand Villa Argentina on Wednesday of that week. Villa Mlini was a perfect place to stay and have some wedding guests to join us for evening BBQ's. The facilities in our villa were even better than we imagined  and the owner, owner's family were absolutely charming and helpful. They even decorated the stairway for our daughter (the bride) as she left the villa to go to the wedding. Please let her know how much we appreciated all of the things she did for us. I will be showing photographs to friends and will be recommending Croatia (and Croatiagems) to them. Thank you very much for a wonderful holiday. Robert"
In terms of the Villa we absolutely loved the size of it, there was plenty bathrooms/bedrooms & the whole Villa was very clean…The kitchen had everything we needed (loved the big fridge with ice!).  The Living room was great & the view of Mlini and the Adriatic were superb.  The games room was a great idea & we particular enjoyed playing on the Playstation 3! We didn't use the 3D TV but would of if films were provided.  The Pool area was great and we enjoyed using the outdoor table & BBQ.  The additional services were good – the meal prepared by the chef was excellent & we particularly enjoyed the truffle sauce with the pasta.  The transfers to/from the airport were well organised…  We also got some food on arrival which provided us with the basics for when we first arrived. The owners were fantastic.  They were so helpful and friendly and everything was no effort to them.  One day Vera's husband picked me up in his car, took me to the supermarket, waiting 1 hour in the car while I got some BBQ food, helped me pack the bags and then drove me back! He then came back later that day to help with the BBQ and brought his special tabasco sauce for us and 4 bars of chocolate for the children! I gave him a few beers in return but he wouldn't accept any money…what a guy! We took a boat ride to Lopud 1 day as well which was very nice and the children enjoyed the sandy beach and swimming in the very clear and clean Adriatic Sea. I would definitely recommend Croatia Gems to friends/family so thanks for everything. Kevin"
Prices Per Week
All prices are in Euros (€) per villa/ apt/ room. Prices shown in other currencies are indicative and an estimate only.
Most villas and apartments are booked by the week – please ask about booking less than 7 nights.
Where short stays are possible, there is a 30% supplement for stays of 3 nights or less
Please note: Some prices may still be in the process of being confirmed – please confirm price on booking.
Call for a Chat…
We spend a lot if time visiting the areas and villas so we know them all well. Feel free to give us a call on

UK +44 (0) 117 409 0850 USA +1 (0) 914 826 8530

and we'll be happy to help at whatever stage of planning your holiday you are at.