Sleeps 30+ | 9 Apts of Various Sizes | 21 Bedrooms in Total | On the Sea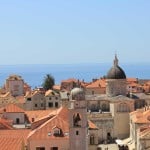 "It was so good to wake in the morning and walk down a few steps to dive into the sea"
VILLA SLANO – NEAR SLANO BAY, DUBROVNIK RIVIERA
Villa Slano is an absolute must for anyone who loves relaxing in the sunshine by the sea in quiet and peaceful surroundings – also great if you have a group of families or friends who want to holiday together but also like the privacy of their own apartment.
Villa Slano is a Croatian large Dubrovnik Villa on the sea edge near Dubrovnik Old Town, perfect for large group holidays in Croatia or smaller groups looking for individual apartments by the sea. This villa consists of 9 apartments of varying sizes, most with separate entrances and large terraces and balconies overlooking the sea. Some also have fantastic BBQ's for really special al-fresco dining. Each apartment has its own privacy and is comfortable with air conditioning and satellite TV. The property can also host wedding receptions or group functions and provide catering.
Wander down to the sea edge of Slano Bay and swim straight off into the calm Adriatic, go on a fishing trip, or take a speed boat over to one of the nearby islands! With World Heritage Site Dubrovnik just 35km away and the whole Dubrovnik Riviera to discover, there are plenty of things to do if you get bored of the fabulous view from Villa Slano… Visit the historic village of Trsteno with its ancient arboretum (this is a gorgeous place to spend an afternoon – shaded from the hot sun by beautiful plants and trees with the prettiest swimming spots at the bottom of the hill (take a packed lunch and a drink!) – the fresh water falling into the sea makes the water here just amazing…) or go on a trip to the beautiful Island of Mljet!
There are lots of Things to do on the Dubrovnik Riviera like Hiring a Chef for your Villa, taking a Walking Tour of the Old Town of Dubrovnik, etc.
The village of Slano itself is 5km away and worth visiting if you want to go for a nice meal in some of the restaurants.

Interior
Overview
Large Groups: in the high season it is not possible for a single group to rent out all the apartments however it may be possible outside of the high season – please enquire.  In high season, it is still possible for large groups to rent multiple apartments. Please note the villa owners live onsite.

Features: located right on the sea edge!
Balconies: yes wonderful big balconies and terraces – all have sea views
BBQ facilities: yes – some apartments have fantastic BBQs on their terraces
Parking: yes – there are no designated parking spaces so parking will be on the main road behind the Villa but there is enough parking for up to 7 cars
Boat mooring: yes
Air Conditioning/Heating: yes
TV/Satellite: yes
Wifi: in all rooms
Mobility Rating: 2
Car Recommended: yes
Breakfast available and evening meals by arrangement with the owners
Villa Specifications
Apt
Floor
Bed-rooms
Sleeps in bed-rooms?
Extra Beds in apt
Bath- rooms
Sleeps in Extra Beds?
Living Room
Kitch-en
Bal-cony
Sat TV
Air-con
BBQ
Parking
Sep-arate

entrance

A LEMON studio apt no. 3
3rd floor up from sea (left from entrance)
Studio (1 double)
2
1 single sofabed
1 with bath
1
no
1
yes
yes
yes
no
yes
no
B OLIVA apt no. 2
ground floor (right)
Now has 2 bedrooms – 1 double bedroom & 1 twin bedroom
4
1 double sofabed
now has 2 bathrooms both with shower
2
1
1
yes
yes
yes
no
yes
yes
C MARE apt no. 4
3rd floor up from sea directly from entrance
1 double bedroom & 1 twin
4
1 single sofabed
2 bathrooms
1
no
1(in bed-room)
yes
yes
yes
no
yes
no
D MIRTA apt no.5
3rd floor up from sea right from, entrance
2 double bedrooms
4
1 single sofabed
2 with baths
1
no
1   (separate)
yes
yes
yes
no
yes
No
E PALMS apt no.1
Ground floor(left)
1 double bedroom
2
2 double sofabed
2 bathrooms: 1 with shower + 1 with bath
3
1
1
yes
yes
yes
yes
yes
Yes
F PRESIDENTIAL apt no. 6
Whole of 2nd floor
Now has 5 separate bedrooms: (4 double bedrooms + 1 single bedroom)
9
2 single sofabeds
3 (2 showers and 1 bath)
2
1
1
yes 2
yes
yes
yes
yes
Yes
G PINE apt no 1 Annex (1st floor of annex above the villa)
above the villa
2 double bedrooms
4
1 single sofabed
2
1
1
1 (part of living room)
yes
yes
yes
no
yes
Yes
H PENTHOUSE (PRESIDENTIAL II), apt no. 7, for 8 people
NEW APT 4TH floor – just down from entrance
2 double bedrooms & 1 twin bedroom & 2 single bedrooms (one without window)
8
1 single sofabed
2 – 1 with shower, 1 with bath
1
1
1
yes
yes
yes
no
yes
Yes
ORANGE apt
Above villa
1 bedroom
2
0
1 with shower
0
1
1
yes
yes
yes
no
yes
yes
Pine apartment is on the first floor of the annex building, for extra beds it has one extra sofa, it has 2 bathroons, 1 person can sleep extra, 1 kitchen part of the living room, it has sat tv, air con, parking, it does not have bbq.
Sea: Step into the sea right in front of the villa!
Shop: in Slano (5km)
Restaurants and bars: Catering onsite when booked in advance with the villa owners – or Slano – 10 minutes drive away
Bank: 10 minute drive
Hiking: all around – lovely path across the hills…
Pharmacy: in Slano
Airport: 55 minutes (Dubrovnik)
"Dear Helen,
We had a wonderful time in Croatia and especially the Villa. The hosts were extremely hospitable and helpful and the location was lovely. We swam every day and spent time on the balcony in the evening. Although there were a number of guests it was extremely quiet. We did not use the grill so it will be brand new for the next guests. I would definitely recommend this location. The studio was room enough for the two of us, Thank you for all your help especially since this was our first time in the area. We are ready to return some day!
Deborah" Lemon Studio, June 2016
"All I can say is that we really enjoyed our stay and the people were completely delightful. It was so good to wake in the morning and walk down a few steps to dive into the sea – The steps the other way up kept us fit.  One note is that there is no permanent taverna … we had to give warning for breakfasts to be bought & prepared by the only lady on duty. The nearest taverna is in Slano, 10 mins drive away by taxi or bus. The owners of the villa did however treat us and other guests to a wonderful dinner to celebrate their new baby – very kind…Thanks again for the last minute booking, we had a really relaxing time and we all returned home loving our time in Croatia.."  Richard July/August 2014
Prices Per Week
All prices are in Euros (€) per villa/ apt/ room. Prices shown in other currencies are indicative and an estimate only.
Most villas and apartments are booked by the week – please ask about booking less than 7 nights.
Where short stays are possible, there is a 30% supplement for stays of 3 nights or less
Please note: Some prices may still be in the process of being confirmed – please confirm price on booking.