Sleeps 7 | 3 Bedrooms | 2 Bathrooms | Pool | Sea Views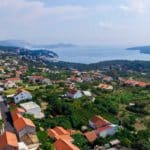 This lovely new villa is a haven of peace & quiet, with magnificent sea views
 VILLA ZEKI – ORASAC BAY, DUBROVNIK RIVIERA
Villa Zeki is in the village of Orasac, not far from Dubrovnik Old Town – the perfect escape villa with pool after a day sightseeing -enjoy some alfresco dining on the terrace, whilst soaking up the sunset with a glass of local wine .
Are you looking for the perfect escape villa with pool and stunning sea views ? Then look no further than Villa Zeki just outside Dubrovnik and a haven of peace & quiet.
The villa has three bedrooms and two bathrooms and will comfortably sleep a family of 7.  A new fully equipped kitchen, is downstairs perfect for cooking family meals or if you would rather dine al fresco there is a lovely BBQ outside on the terrace.  The villa has a separate dining area, spacious living room, with comfortable seating area with a LCD TV –  it is air conditioned and has free wifi and parking. Outside there are gardens and a lovely furnished terrace around the pool.
For dinner you are spoilt for choice  as there are some lovely Restaurants in Orasac Bay if you fancy dinner with a view then the Restaurant Savonari is very close by and has scrummy domestic food with stunning sea views and lots of atmosphere. Then the classy Radisson Blu Sun Gardens Resort in Orasac on the sea edge has a delectable selection of 7 eateries to choose from.
There is also a lovely beach with sunloungers and facilities at the Radisson Blu not to mention water sports and other activites available including spa facilities.  Then the Hawaii Bay with it's little harbour and beaches is also close by – and has a chilled out pizza place and bar right on the sea – gorgeous! A small Grocery store is just 200 meters from the property, so perfect for basics like bread & milk and local produce.
There are also some fantastic beaches in this area – check out the Orasac Bay Beaches and more a very short drive away – check out Brsecine Bay and Trsteno Bay.
The famous Old Town of Dubrovnik is 12 km away, with lovely beaches, historic sights, restaurants, cafes, bars and shops. And after all this you have the perfect escape villa with pool to come back to and relax.
Sleeps: 7 people
Bedrooms: 3 doubles
Bathrooms: 2
Kitchen equipment: Oven, Microwave, Stove, Refrigerator,  Kettle,  Kitchen utensils
Technology: Cable/Satellite TV, Wifi
Air-conditioning: yes
Patio/Terrace/deck: yes
Sea view: yes
BBQ/Grill: yes
Pool: yes, private
Towels & Bed linen provided: yes
Other: Hair dryer
Parking: yes, private
Restaurants: Domestic Restaurant Savonari is a few minutes walk and the Radisson Blu Complex which is approx 30 mins walk has a variety of restaurants to choose from. The Hawaii Pizza Place is on the beach approx 20-25 minutes walk away – steep hill at the end! Check out other Orasac Restaurants here.
Small Grocery store: 200 meters from the property perfect for basics & local produce
The nearest bus stop: 500 meters from the Villa, with buses passing frequently and it is an approximately 30 -40 minute ride to the Old Town.
Old Town of Dubrovnik: 12 km away (approx 20 minutes drive), with various beaches, historic sights, restaurants, cafes, bars and shops.
Dubrovnik Main Bus Station and Gruz Port: approx. 10km, where you can catch the ferries to the islands.
Dubrovnik Airport: 35km
Prices Per Week
All prices are in £'s (GBP) per villa/ apt/ room, per week, unless otherwise stated:
Most villas and apartments are booked by the week – please ask about booking less than 7 nights.
Where short stays are possible, there is a 30% supplement for stays of 3 nights or less
Please note: Some prices may still be in the process of being confirmed – please confirm price on booking.