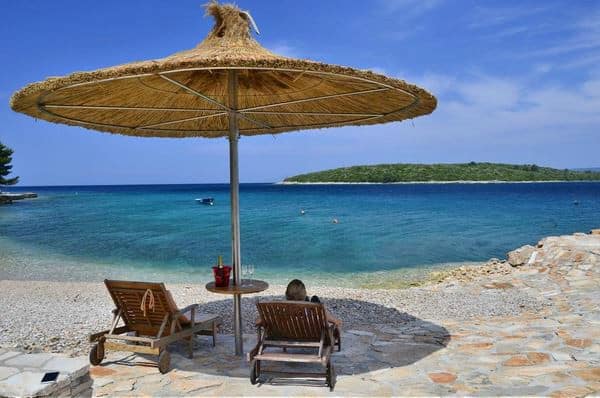 Vineyards & Beaches!
Stunning vistas and picturesque coastline abounds here – explore quaint little sea edge villages, get active with water sports, sunbathe, swim & enjoy delicious local food & wine made in the area…
Call us for a chat on  UK +44 (0) 117 409 0850 USA +1 (0) 914 826 8530 …
Head up the coast from Dubrovnik and an hour north of Dubrovnik old town you reach the start of the Peljesac Peninsula at the fortified village of Ston. The Peljesac Peninsula is about an hour and 15 minutes long and is the gateway to the Dalmatian Islands. There are some lovely Peljesac apartments. Stunning views and vistas await you and there are plenty of little fishing villages and great beaches to discover – check out Juliana and Trstenik about half way up.
Peljesac Apartments
Peljesac apartments are varied in their location. The main area to visit and the main town on the Peninsula is Orebic with its old town on the sea and impressive sea captains houses. The old town beach is very pretty and makes for a perfect day at the beach. Close by, do make time for a day at Mokalo Bay, a hidden cove with cafe and sandy beach fringed by pine trees – idyllic. This area is south facing and so evenings are lovely (gorgeous sunsets!) and views of lush, green Korcula Island are beautiful…
There are a couple of other sandy beaches in this area too and it's also a quick and easy to hop on a ferry over to the medieval town of Korcula (supposedly Marco Polo's birthplace). The ferry hop is only 15 minutes each way from Orebic old town and takes you right into Korcula old town, so well worth doing. The Island of Mljet (a designated National Park) is also a good day trip from here (ferry from nearby Trstenik) and the mainland is also reachable by ferry – this is a good base if you want to experience a few different places on your holiday or to just stay put and enjoy the stunning scenery and coast – lots of options…
From Orebic to the tip of the peninsula here are other pretty places to stay in a Peljesac apartment. You'll find little villages such as Perna, Kuciste, Viganj and Loviste which have long, seafaring traditions and a mixture of newly built and opulent sea captains houses built in the late 18th/early 19th centuries in the style of Dubrovnik summer mansions. These are lovely villages with lots of little quays along the sea edge, great for sunbathing or diving into the sea! Viganj is the place for windsurfing and kitesurfing – conditions are perfect due to the balmy "maestral" that picks up every afternoon. Many professionals practise here – lessons and hire are very reasonable and great fun! There are no shortage of delicious restaurants and cafes/bars to relax in if the sun and sea get too much…
At the top of the peninsula is the pretty Loviste Bay. Its calm and protected water is beautiful to swim in and this is a favourite bay for yachts to moor in for the night. There's a lovely beach and several swimming spot for daytime lounging plus a nice selection of restaurants around the bay. This is peaceful bay for really getting away from it all.