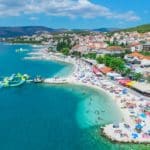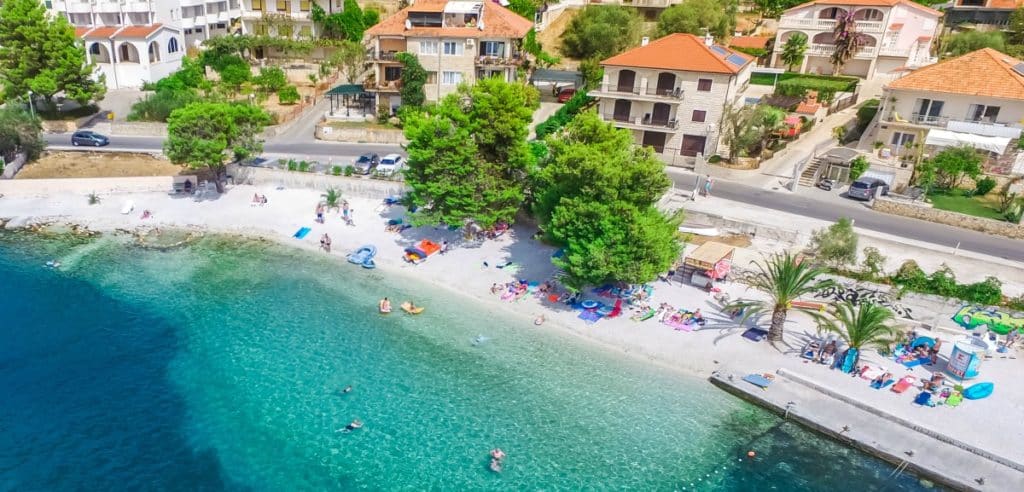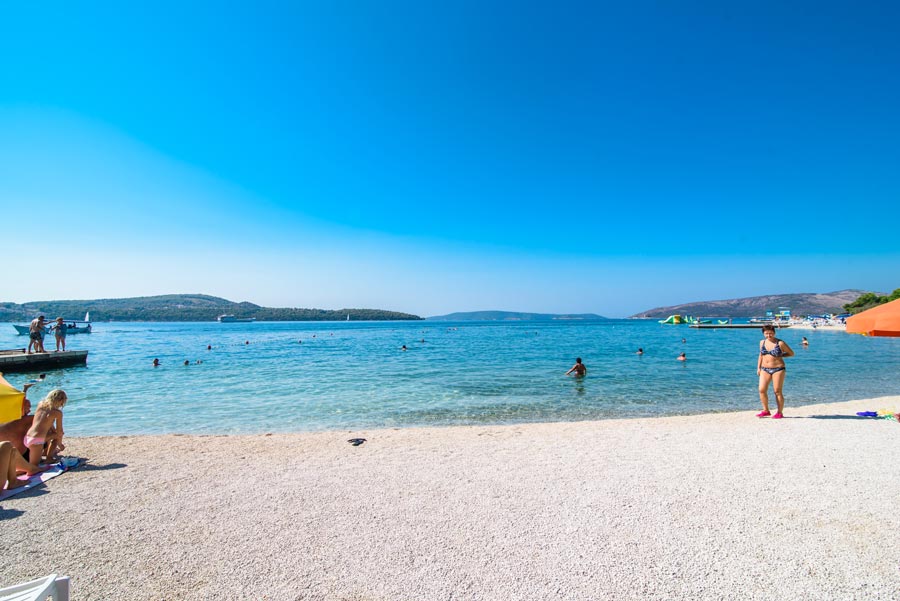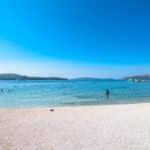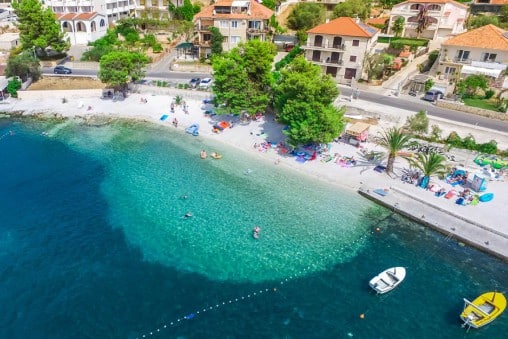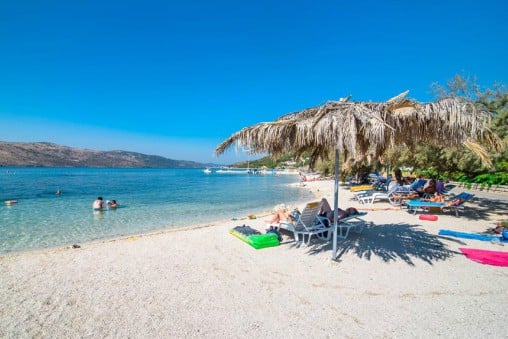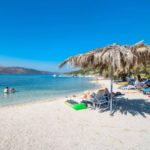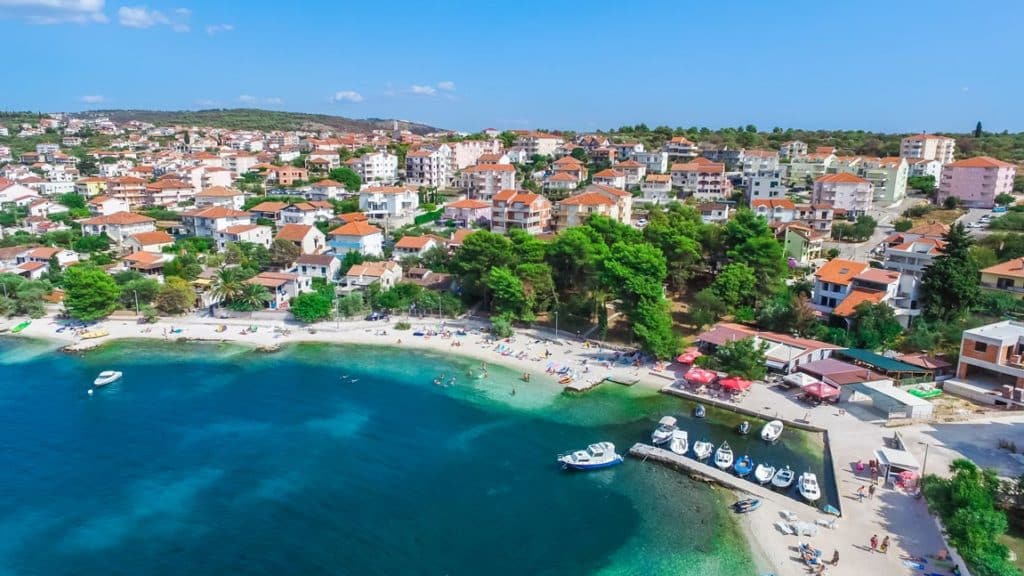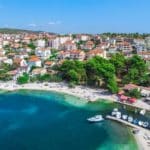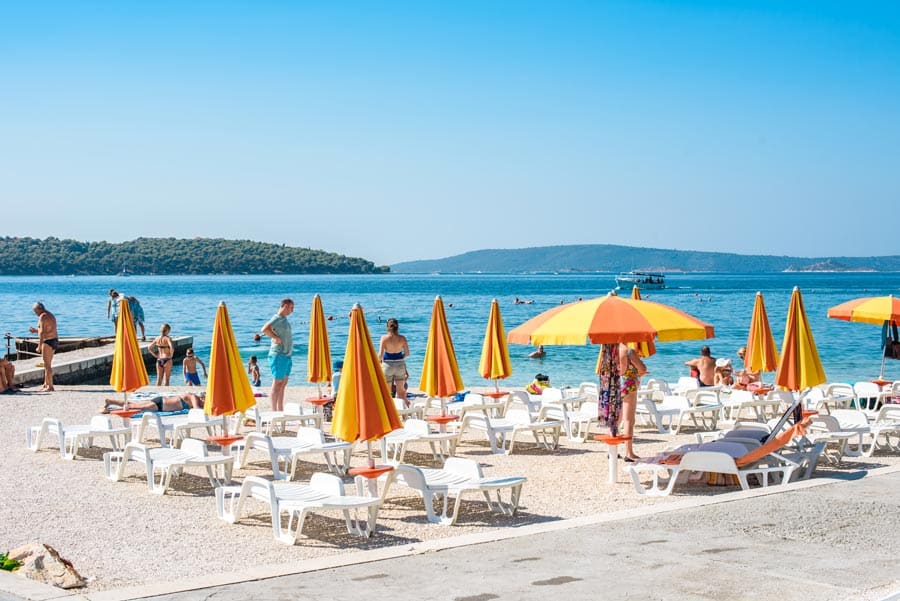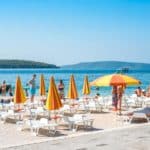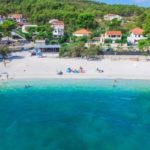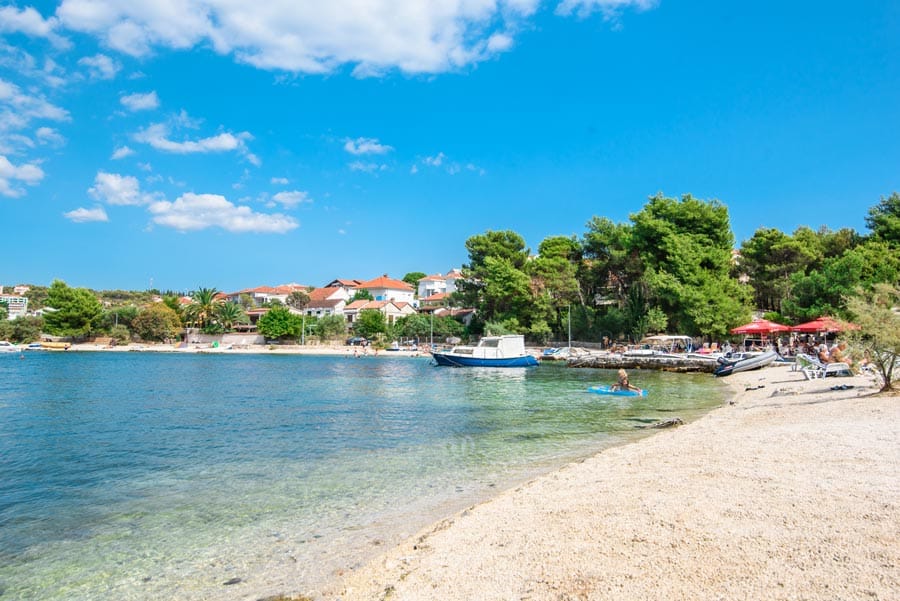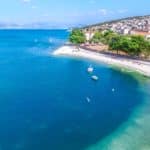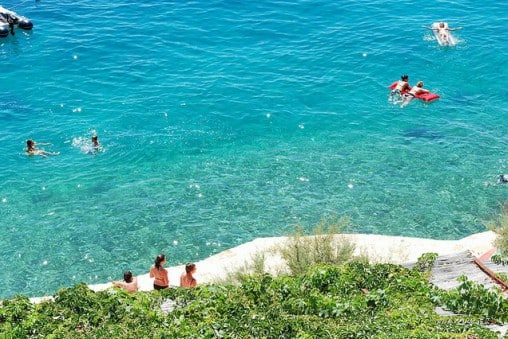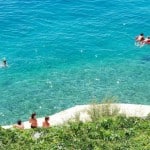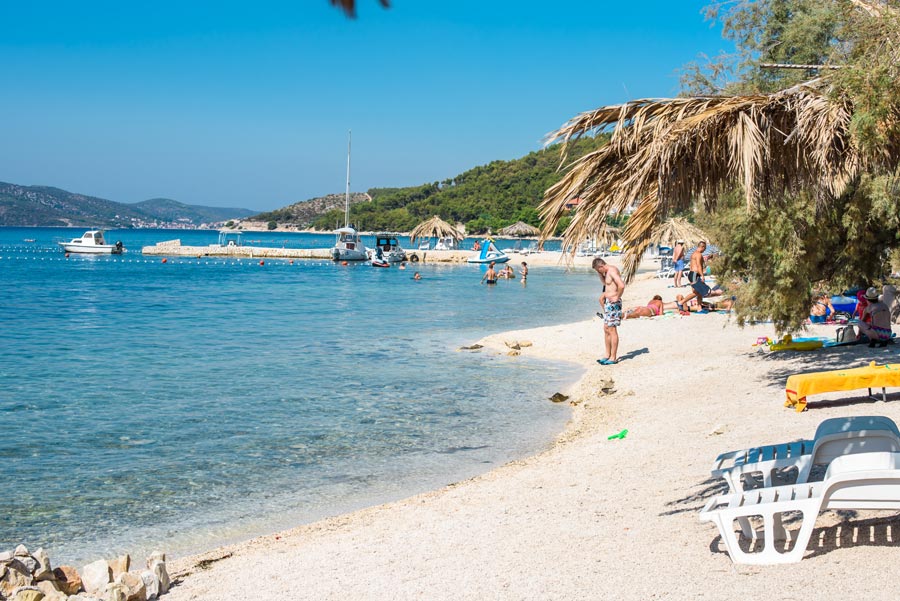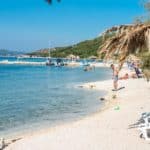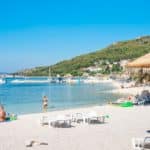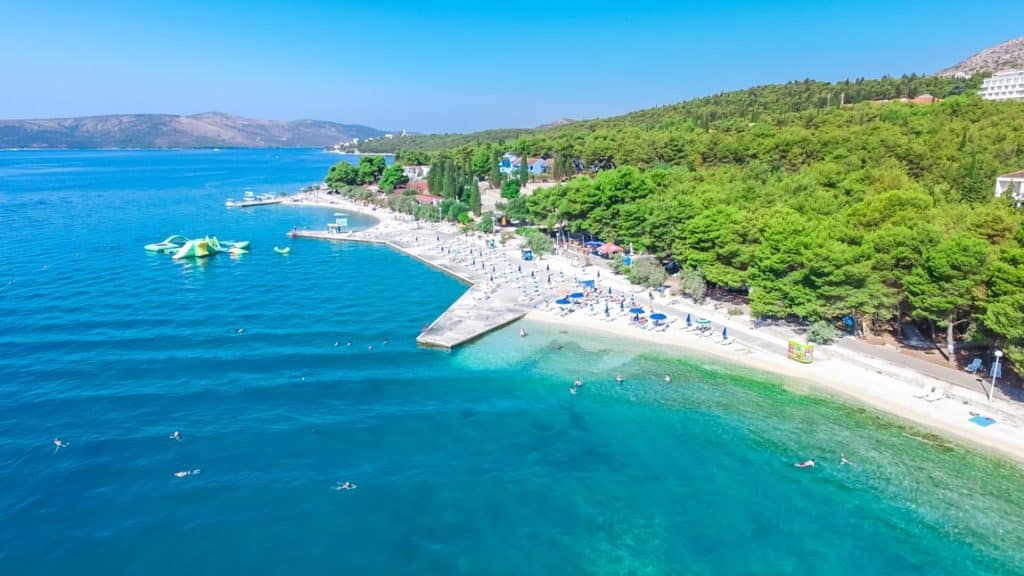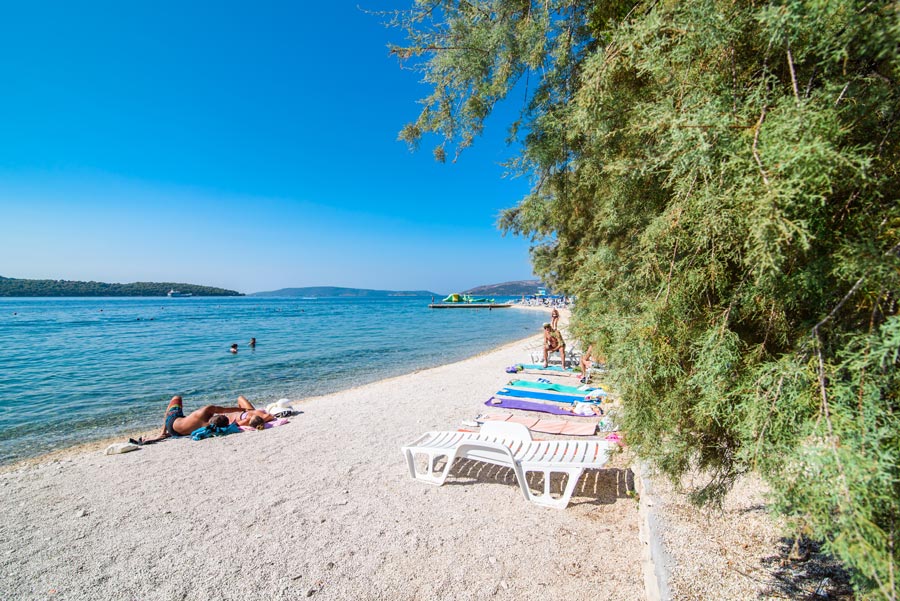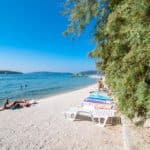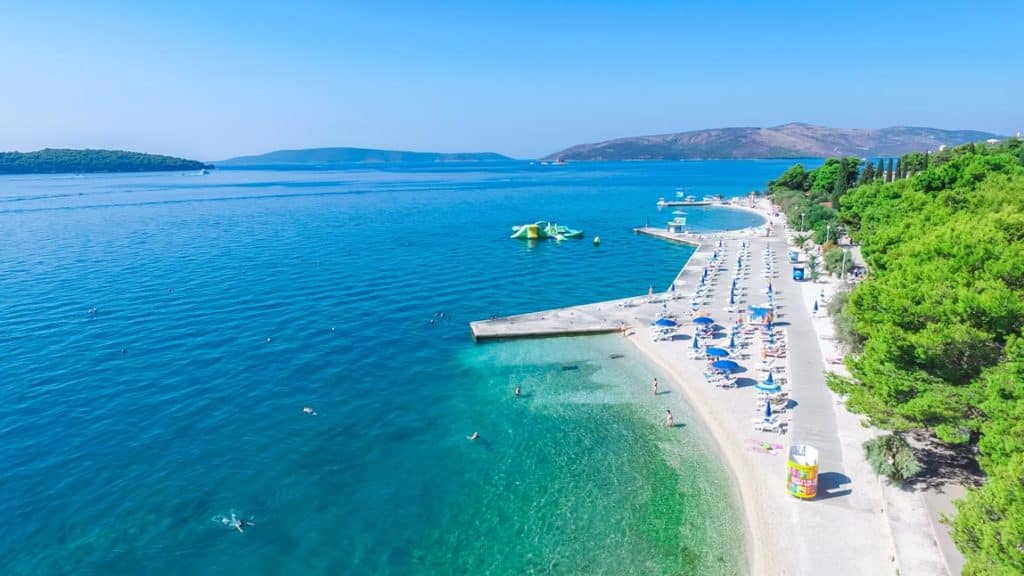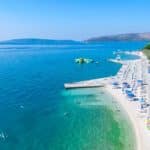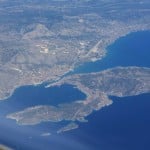 Villas in Croatia Split – Ciovo, Trogir's Own Adriatic Island
by Croatia Gems, 18th February 2023
Discover the delights of the Split and Trogir Riviera's own island that doesn't need a ferry to get there!
So how can it be – a Croatia island escape without the ferry? Yet it's true, as Ciovo island can be reached by car, so no setting foot on a ferry or water taxi. Island living at its most convenient as Ciovo is connected to the Split riviera by bridges. Choose either the newer bridge from quite close to the airport, or from the much shorter bridge connecting from splendid Trogir old town.
Okrug Gornji
Ciovo's character is multifaceted. Head for the western coast closest to Trogir and you'll find the liveliest and busiest beaches – in Okrug Gornji. This is a beach-lined strip with restaurants, beach bars and villas, in Croatia Split as you'd find on most coasts where you have gradual inclines into the sea, suitable for all ages. You'll find small water-park type inflatables, music and lots of water sports on offer. Water taxis are on hand from Okrug's little harbour to whisk you over to Trogir should you wish, or there are buses running along the main road also. Croatia villas are studded up the hillsides maximising the epic sea views that make them special. Villa Marissa and Villa Lendra are two such – both 3 bedroom luxury with extras. You wouldn't need to move far from your Croatian villa in Okrug as everything is within walking distance.
Okrug Donji
Keep on past Okrug Gornji and you come to the start of the Okrug Donji peninsula which sticks out into the Adriatic like a crab's closed claw. As you head west, the peninsula becomes quieter as the access to the sea becomes more infrequent and Croatia beaches less prevalent.
Before you head to the westernmost point you'll find 4 bedroom Villa Angela. This new Split villa is walkable to the beach, restaurant and convenience store, but still with easy access to Okrug Gornji and Trogir by bus or water taxi. Beyond there, the whole length to the sea edge is hidden in Mediterranean trees  where access is confined to by foot or boat. This area has a totally different character, and views are directly to the mainland, towards Seget Donji and Medena Beach. You'll find fewer Croatia villas with pools here which makes it especially nice, but you'll weigh that against less choice of restaurants and bars.
Mavarstica
The roads then swing south to the popular Kava Beach. Head back to Okrug Donji to find the road down to Mavarstica, known for its clear water for diving. You'll find fabulous Villa Arymor here, although you'd need a car or rely on taxis. near here is our favourite restaurant Konoba Duga can be reached by water taxi or car. It's an idyllic location to have a dip followed by a super meal, then sunbathing.
Mastrinka and Arbanija
To get to Ciovo's northern coastline take the signpost from Trogir to Slatine. Or from Okrug Gornji take the road over the top of the island via Zedno village. This coastline is quieter than Okrug's – the beaches are lovely, but quieter and classic Croatia beaches. There are a few villages along this stretch with their own beaches and little harbours. Restaurants and beach bars are scattered along to serve the many Croatia rental villas that have sprung up as people have discovered how lovely it is. This is a super part of the island and you might want to consider Palm Tree Villa and Villa Slatine, with 6 and 5 bedrooms respectively. Both are by the beach (Palm Tree is on it!) and great for children, and with everything within walking distance.
Slatine
The Slatine area focuses on the village of the same name. From its harbour you can get the water taxi to Split old town or into Trogir, so really handy. Beyond the village the road becomes a track to access our favourite stretch of beaches. The track winds eastwards along the coast to Ciovo's tip. From here you can get to numerous little beaches hidden amongst the pine trees – lovely and well worth the effort. The views over to Split town and the mountains behind are just great. So, take a picnic, bathers, and your sunscreen and settle in for the day!
Ciovo's south-eastern coastline
We'll discount this as it's inaccessible by car and pretty inhospitable.
Finally…
Should you be looking for villas in Croatia Split, then Ciovo island has it all from the lively or quieter, to 'away from it all'. There are plenty of things to see and do. Try boat trips, water sports, quad biking. Or there's loads to explore off the island just a short drive away. National parks, waterfalls, culture and events.
If we've inspired you to consider Ciovo island for villas in Croatia Split, then search our Split and Trogir villas. Or you can do a wider search by villa size and/or date. And not forgetting our 'By Request-only' villas. If all that sounds too much like hard work, email us what you are looking for and we'll send some suggestions.
More Information