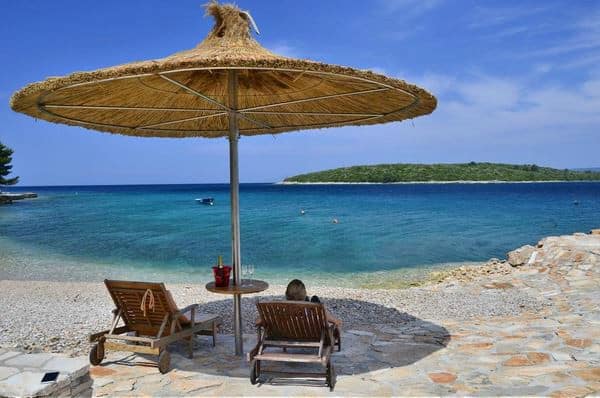 Vineyards to the Seashore!
Be wowed by the fantastic scenery of the Peljesac wine region & its stunning coastline – delicious local wine, pretty scalloping beaches, good value & lots to do!
Call us for a chat on UK +44 (0) 117 409 0850 USA +1 (0) 914 826 8530
Peljesac Villas
The New Peljesac Bridge has redefined the option of a Peljesac Holiday and the coastline of southern Croatia… Since it opened, it's revolutionised travel to Peljesac and Korcula Island. Now it's easy and quick to travel between Dubrovnik, Peljesac, Korcula and Split. And it's well worth visiting! The beautiful Peljesac Peninsula starts at the end of the Dubrovnik at the fortified village of Ston. It is the gateway to the Dalmatian Islands and stunning vistas abound as you drive up through the wine region with a few Peljesac villas dotted along the coast in various bay. Then on to the seaside towns and villages that are dotted along it's south facing coastline. There certainly are some beautiful areas for Croatia beach holidays on Peljesac. If you need some help with the best places to look for villas, let us help you decide with our guide to villa locations in Croatia.
There are some beautiful villas in Croatia to rent  on Peljesac Peninsula, For Peljesac villas the main area to visit a is Orebic which has a pretty old town and beach with delectable cafes and restaurants within easy access to while away the day and evening! Just a 15 minute boat island hop away from famous Korcula Town, Viganj on the Peljesac Peninsula has some of the best wind surfing and kite surfing locations in Croatia – why not give it a try! Hire a windsurf board and take a lesson! With conditions suitable for beginners up to competitor level, there's plenty of family fun to be had.
The views out across the small stretch of sea to Korcula Town are wonderful and constantly changing as colourful boats criss-cross. It's only a 15 minute ferry hop to Korcula Town which is a must-see – the supposed birthplace of Marco Polo, it is often referred to as a mini-Dubrovnik and has a myriad of quaint, small streets with little boutiques and art galleries. There is even a turret top cocktail bar along with a good selection of restaurants and eateries serving delicious local fare.
Back on the Peninsula, take a day trip to pretty Mokalo Bay, an idyllic spot with cafe and sandy beach fringed by pine trees – idyllic. The Island of Mljet which has National Park status due to its unspoilt natural beauty is also a really nice day trip from here. There are lots of options to explore in this area if you book a Peljesac villa.
On the Orebic coast which stretches to the tip of the peninsula there are some very good spots for a Peljesac villa. The sea edge villages of Perna, Kuciste, Viganj and Loviste have quaint, old summer mansions and easy going beachy accommodation with good value local restaurants. Spend days on the beach and evenings relaxing at local tavernas sampling the local wine made in the area's famous wineries and vinyards. Further along at the tip of the peninsula is the pretty Loviste Bay. It's popular with yachts due to it's lovely, calm and protected water and so it's heaven for swimming and relaxing – it's little beach is perfect for children and there are a nice selection of restaurants around the bay. It's hard not to relax in the Peljesac villa!