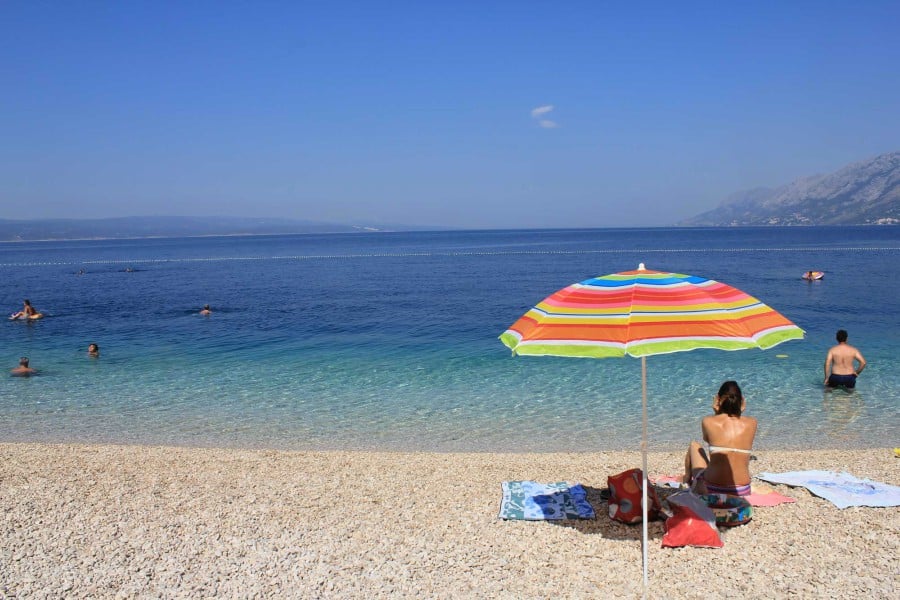 Which month is best to visit for Croatia Villas Holidays…
by Saron Lease 20th March 2023
Well actually now 🙂 – Spring has sprung & the sun has come out – It's warm and perfect for Croatia Villas Holidays
But what sort of holiday do you want? And how hot do you want it? We look at the weather in Croatia throughout the year so you can pick when best to go..
Spring Holidays to Croatia
The Mediterranean climate of Croatian makes Spring and ideal for sightseeing and relaxing on the beach. As I type, the sun is out and it's a beautiful, warm day. The t-shirt weather is the forecast for the whole week. The tables and chairs are out by the sea edge in the bays up and down the Croatian coast. And as Easter approaches, the beaches in Croatia are being preened and the cafes and hotels are rolling up the shutters. In England this would be a beautiful summers day!  The first tourists have arrived, and guided tours around Dubrovnik Old Town and Split Old Town are underway. It's the perfect time to come if you want to do some easy, uncrowded sight seeing and feel the sun on your face. Indeed, if the sun is out, the sun is warm.
By the time Easter comes around, sightseers are in full swing and making the most of the fascinating Croatian locations. The 1st May brings the official start of the summer tourist season. You can swim in the sea from May, the Croatia flights ramp up and most villa holidays in Croatia begin. Check out some great May Half Term Croatia villas here.
Early Summer – June Croatia Villas Holidays
One of the most perfect times in my opinion for villa holidays in Croatia, is June. The temperature hots up and it's most certainly each weather. By mid June it's hot hot hot. Of course, the school holidays are not upon us by then and so it's the ideal time for couples and groups of friends to getaway. Without the high demand, prices for Croatia villas holidays are lower and so a great opportunity to make the most of it if you can. Many do, and you will find that Croatia villas in June get booked up quite early on.
High Summer Holidays to Croatia
As July and August roll around, the sun continues to beat down and days are full of swimming in the pool and at the beach. There are some great villas on or near beaches in Croatia. Reading on a sun lounger, taking a dip, exciting Croatian excursions to islands or waterfalls. As the days ends, the heady chirping sound of cicadas lulls you into night time. Fantastic local food and wine at a wonderful Croatian restaurant or at your villa. How about hiring a private chef one evening? Great times with family and friends is what it's all about. This is what villa holidays in Croatia are about.
Late Summer Villas in Croatia
As children go back to school, September is here. Still hot, still beach weather. Still very much a good time for Croatia villas holidays. Just without the frenetic summer holiday intensity. It's wine harvesting time too so the perfect time to do a bit of wine tasting from Croatia's award winning wine scene!
Autumn Villa Holidays in Croatia
Autumn in Croatia is really the end of September and October. This time of year has less dependable weather but very often there's an Indian summer and swimming in the sea and beach fun continues on to November if you are really lucky! Certainly October can be lovely and in any given week you are likely to have some really nice sunny days. Perhaps a couple of days of not so great weather, but all round still very nice for a holiday. Stick to nearby mainland towns like Dubrovnik and Split though as many little island locations tend to start to shut down around the 21st September. The locals themselves like to enjoy a bit of sunshine and a break too after a busy summer!
Winter Croatia Breaks
November tends to be quieter but local tourist boards have been putting on some wonderful events for tourists and locals to enjoy. A stunning 3D light show in Dubrovnik and children's light festival was wonderful in Dubrovnik Old Town this year. And Croatia comes back to life in December with the start of Advent! There are wonderful Croatian Advent festivals up and down the coast – particularly good are the Dubrovnik Christmas Festival and Advent in Zagreb. In fact Zagreb has won awards for it's sparkling lights! Dubrovnik Old Town is wonderful at Christmas and full of atmosphere and charm. These locations make for a superb alternative to traditional Christmas holiday locations.
More Information